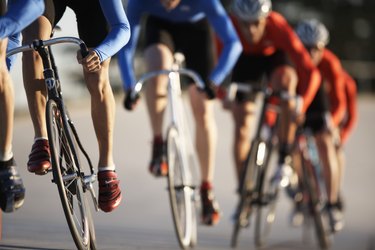 The right bike shoes will make all the difference in your ride, because they will save you a significant amount of energy. Many cycling shoes come in European sizes rather than U.S. sizing. Some use only men's sizing, and the sizing on cycling shoes can vary by manufacturer as well. You should know how to convert the sizing to get the proper bike shoes.
Women's Shoes
Women shopping for bicycling shoes with U.S. sizing need to know how to convert the size from a men's size to find the right shoe, though there are also many shoes sized for women. With U.S. sizing, bump your size down by 1.5. For example, if you wear a size 9 in women's shoes, you'll wear a size 7.5 in men's. If you wear a size 7 in women's shoes you'll wear a size 5.5 in men's shoes.
Men's Shoes
If you are shopping for men's sizes among well-known brands that feature American sizing, you'll have a relatively easy time. Cannondale, Nike, Airwalk and Adidas, for example, all run true to size. That means if you wear a men's size 7 or 9 in regular shoes, you'll wear that same size in your bike shoes.
European Sizing
Buying shoes with European sizing is a bit trickier. Your best bet is to try them on. If you are buying online, however, you can use a sizing chart -- just make sure there's a good return policy in case the shoes don't fit well. Men's sizes go like this for Diadora, Duegi and Lake shoes: Size 7 is a 40; size 7.5 is a 41; sizes 8 and 8.5 are a 42; and sizes 9 and 9.5 are a 43. In Diadora, size 10 is a 44; size 10.5 is a 45; size 11.5 is a 46; and size 12.5 is a 47. In Lake and Duegi, size 10 is a 44; size 10.5 is a 45; size 11 to 11.5 are a 46; size 12 and 12.5 are a 47. With Look, size 7 is a 40; size 7.5 is a 41; sizes 8 and 8.5 are a 42; size 9 is a 43; size 10 is a 44; sizes 10.5 to 11 are a 45; and size 11.5 is a 46. If you are a woman, convert to a men's size before using this sizing chart.
Best Fit
The only real way to find the right-size shoes is to try them on, using fit rather than the number on the shoe. You need to take factors such as width into account, as some manufacturers make their shoes narrower and some wider. Generally, shoes made in France and Italy are narrower, and shoes made in the United States, Taiwan and Korea are wider. Also, despite sizing charts, shoes can vary from production run to production run, model to model and brand to brand. When your cycling shoes fit correctly, they will feel like a properly fitted running shoe with even pressure on your instep and a snug-fitting heel. You want your shoe to be snug to prevent your foot from moving around in it. However, don't expect a too-tight shoe to stretch out. Such a shoe can hinder your circulation. You need a stiff sole to prevent too much flex so that you don't lose pedaling effort. Many cyclists, once they find a brand that fits well, stick with it for years on end.