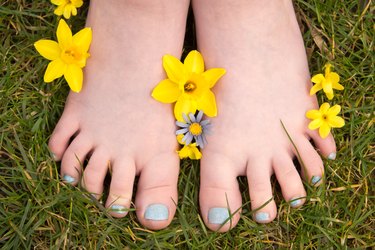 YogaToes are designed to stretch, spread and exercise the toes to realign foot structure, prevent and correct common foot problems and strengthen the feet. The product may be helpful for people who spend much of the day on their feet or wearing restrictive footwear. Practicing yoga regularly can be just as effective as YogaToes when it comes to stretching the toes and improving foot problems; still, yogis and orthopedic surgeons alike tout the benefits of YogaToes as an easy way to help care for your feet.
Product
YogaToes are ergonomically designed toe separators, sold in pairs and made out of a safe, BPA- and latex-free malleable plastic. The design is meant to work the muscles of the feet by stretching the toes apart from one another and away from the ball of the foot, increasing circulation and realigning foot posture in the process.
Foot Pain Relief
YogaToes are advertised as being effective in combating foot pain caused by tight, restrictive footwear, extended time standing or walking or strenuous sports activity. In an interview with MSNBC published in May 2009, Dr. Carol Frey, assistant clinical professor of orthopedic surgery at UCLA, endorses the benefits of YogaToes to treat and prevent mild corns or bunion pains due to such activities. Frey also notes, however, that YogaToes would not be effective in treating more serious foot conditions, injuries or deformities.
Foot Strengthening
Frey also states that YogaToes are ideal for foot-strengthening exercises. Individuals can benefit simply by wearing YogaToes – the product completes the stretching and strengthening work on its own. Active complements to such foot-strengthening exercises include yogic techniques like spreading the toes, massaging the feet and spreading the fingers between the toes to intensify the stretch.
Improved Yoga Practice
In the article "Stretch 'Em" for the Anatomy section of "Yoga Journal," yoga instructor and physical therapist Julie Gumestad laments the difficulty that many beginning yoga students encounter due to underused, clumsy toes. YogaToes and other foot-stretching methods can benefit yoga students seeking help in their practice, since so many yoga postures require wide-spread, grounded toes and active feet for proper alignment, balance and strength.