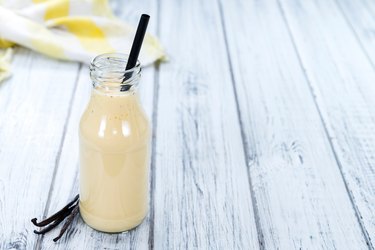 Whether you are watching your carbohydrate intake to get your blood sugar levels under control and better manage your diabetes, or following a low-carb eating plan to lose weight, there is a large variety of products on the market to help you if you need snack or meal replacement options. Glucerna and Atkins are two examples of brands selling such products.
Use
The Glucerna shake is marketed to people with diabetes to help them control their A1C, or average blood sugar levels. It can be taken as a snack or occasional meal replacement. Glucerna is lactose-free and gluten-free. The Atkins shakes are mainly marketed to dieters following the low-carb Atkins diet and these shakes can be taken as a low-carb snack option suitable for the Atkins diet.
Carbohydrate
A can, or 8 fluid oz., of Glucerna provides a total of 27 g carbohydrates and 5 g fiber, which corresponds to an available carbohydrate content, or net carb content, of 22 g per serving. Available carbohydrate represents the amount of carbohydrate utilizable to the body and that contributes to elevating blood sugar levels. Available carbs can be calculated by removing the grams of dietary fiber from the total grams of carbohydrates. One serving of an Atkins shake contains 11 fl. oz and provides between 2 and 6 g carbohydrates, 1 and 4 g fiber and 1 and 2 g net carbs.
Nutrition Facts
One 8-oz. serving of Glucerna shake contains 200 calories, 7 g fat, 0.5 g saturated fat, 10 g protein, 210 mg sodium, 25 percent vitamin A, 100 percent vitamin C, 25 percent calcium, 25 percent iron and 25 percent vitamin D. A serving of 11 fl oz. of Atkins Advantage Shake provides between 150 and 160 calories, 9 and 10 g fat, 3 and 3.5 g saturated fat, 15 g protein, 260 and 300 mg sodium, 25 percent vitamin A, 20 percent vitamin C, 40 and 50 percent calcium, 20 and 40 percent iron and no vitamin D.
Sweeteners
The Glucerna shakes are sweetened with maltodextrin, sucromalt, fructose, acesulfame-potassium and sucralose, while the Atkins shakes are sweetened with acesulfame-potassium and sucralose.
Flavors
Glucerna shakes are available in four different flavors, including creamy chocolate delight, homemade vanilla, strawberries and cream, and butter pecan. The Atkins shake products include six varieties: cafe caramel, dark chocolate royale and milk chocolate delight, mocha latte, strawberry and vanilla.