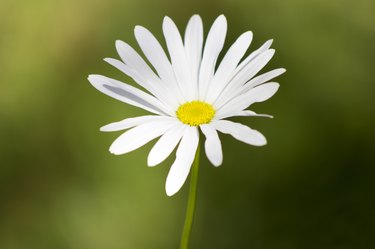 Because herbal tea is a very low-calorie beverage, it can help you reduce your overall calorie intake when used in place of higher-calorie beverages -- which is beneficial when you're trying to shed pounds. Drinking herbal teas isn't a guarantee you'll lose weight, however. Your overall calorie intake and energy expenditure determine whether or not you'll lose weight drinking herbal tea.
Benefits of Herbal Tea
Herbal teas, which can be made using a variety of different herbs such as cinnamon, ginger root, chamomile and red raspberry leaf, contain just 2 calories per cup. A study published in 2010 in the "Journal for Nurse Practitioners" reports that herbal teas support weight loss by minimizing poor dietary choices and decreasing consumption of high-calorie, sugary beverages. In addition, they can help reduce the calorie content of soups when used as soup stock.
Weight-Loss Calorie Needs
Safe and effective weight loss requires you to eat 500 to 1,000 fewer calories than you burn off daily to lose 1 to 2 pounds weekly. Replacing sugary drinks, such as soda, juices, lemonade and sweetened iced teas, with herbal teas can help you meet your weight-loss calorie needs. For example, replacing two 12-ounce cans of soda with 2 cups of herbal tea reduces your energy intake by 300 calories daily, which should help you shed about 1/2 pound per week.
Herbal Vs. Nonherbal Teas
Nonherbal teas are also generally effective for weight loss because they too are very low-calorie beverages. Green tea, for example, helps suppress your appetite and enhances metabolism, according to the 2010 study in the "Journal of Nurse Practitioners." Many nonherbal teas also contain caffeine, while most herbal teas do not. While caffeine can boost your energy level and help you burn extra calories throughout the day, which is beneficial for weight loss, it's not the best choice at night because it can cause difficulty sleeping.
Safety Concerns
Although many herbs used in herbal teas are generally recognized as safe, always chat with your doctor before using herbal tea for weight loss, especially if you're breast-feeding. The safety of some herbs, such as chamomile and ginger, has not been established for breast-feeding women or individuals with kidney or liver disease. Furthermore, some herbs -- when consumed in high amounts -- may interact with certain medications.