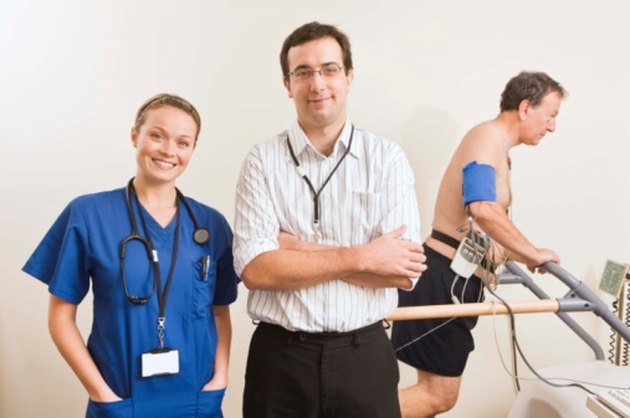 The medical field provides numerous choices for individuals looking for career opportunities. While this is stable employment field, many opportunities are limited to individuals with specialized training, such as sport nutritionists. Individual states determine licensing and certification requirements for practicing sport nutritionists. Many educational institutes offer courses of study and degree programs that help students meet the requirements.
Minimal Requirements
To practice as a licensed nutritionist, the U.S. Department of Labor Statistics advises that individuals must obtain at least a bachelor's degree. While this initial degree provides the important foundation for a career in the health and fitness field, continuing education is necessary. Specialized training beyond a four-year college provides the educational credits necessary for a license to practice in the field.
Sports Nutrition
Sports nutrition is a specialized program of study that combines the field of fitness with the field of health, specifically in the area of nutrition. Colleges and universities offer graduate programs that allow individuals to specialize in this area. While the prerequisites may vary, standard requirements for new students include a bachelor's degree from an approved educational institution. While some master's programs require a degree in relevant areas of study such as exercise science or nutrition, others have standards that are more lenient. Accredited institutions that offer master's degree programs often require internships that last six to 12 months.
Certificate Programs
Certificate programs for sport nutritionists provide an opportunity to for individuals to focus on specific areas within their field, such as kinesiology or sport supplements. Certification programs also provide a method for licensed sports nutritionists to obtain the necessary continuing education required by their state. Educational institutions that offer master degree programs in sport nutrition commonly offer certification programs to eligible individuals who desire further study for job advancement or continuing education. The length of these certificate programs vary, depending on the subject of study and state requirements.
Program Courses
Sports nutrition programs of study normally expand on undergraduate courses, providing an in-depth education on fitness and nutrition topics, such as exercise physiology, health promotion, sports supplementation, exercise and aging and advanced nutrition. Students who successfully complete the course of study, meet their state's requirements and obtain the necessary license may find employment in outpatient care centers, surgical hospitals and local government agencies, as well as physical therapy centers and school athletic departments.