Kickboxing can be a fun, effective workout, but heading to a kickboxing class — whether at a gym or a local boxing studio — can be tiresome. Whether the class is too full, the gym is too expensive or the instructor just isn't your cup of tea, sometimes it can be better to take up your studies at home.
However, you need a few pieces of specialized equipment to set up a home kickboxing gym. Although you could simply put on a DVD and do the workout in your living room, investing in proper equipment and accessories will take your training to the next level.
Find the Space
If you want to set up a true home kickboxing gym, you need to allocate a space beyond your living room or bedroom. It should have enough space to be able to kick, punch and move without concern of hitting a wall or furniture. Consider dedicating a spare bedroom or an open space in your basement to the gym.
Although all you really need is that open space, take the gym up a notch by adding mirrors and rubberized flooring. You might even consider giving the room a fresh coat of paint and adding frame images of boxing greats or applying decals of motivational quotes to pep yourself up every time you come in for a workout.
Add Boxing Bags
While kickboxing can be done by punching and kicking into the air, your workout will be much more effective if you have resistance in the form of a boxing bag or two. Big boxing bags improve your body's endurance, strength and conditioning and should be about half of your body weight. For example, if you weight 200 pounds, look for a boxing bag that's around 100 pounds. Smaller bags work your speed, balance, coordination and timing. For the most effective home kickboxing gym, invest in both.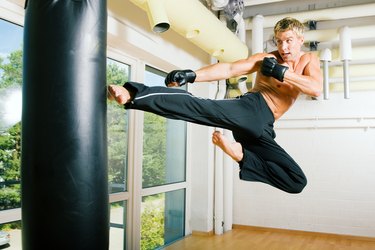 Finish with Accessories
Round out your home kickboxing gym with a set of accessories that will make your workouts even better. First, protect your hands with some important gear: hand wraps, for one, which will cover your wrist, hands and knuckles, as well as kickboxing gloves, which will absorb the shock of punching a heavy bag. Training shoes will keep your finger and ankles secure. Finally, make sure you have a stopwatch around (or an interval timer app for your smartphone), which will help you design interval workouts that will condition your body.