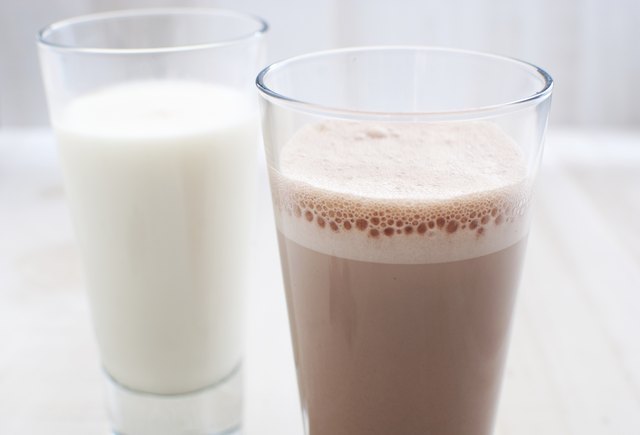 Boost is a nutritional supplement drink from Nestle Nutrition, and varieties include regular, high-calorie, low-calorie, high-protein and low-sugar. When you are deciding whether Boost is good for you, read the package labels for all the nutrient information and ingredients. Consult your health care provider for assistance in choosing a product and developing a nutrition plan that is appropriate for your lifestyle.
Background Information
Boost comes ready-to-drink in single serving 8-oz. bottles in flavors such as vanilla, chocolate and strawberry; Boost High Protein also comes in a powdered form that you can mix with milk. Boost may be good for you as a convenient snack or meal instead of choosing less healthy options when you are in a rush. Each serving provides about 190 to 360 calories, 10 to 16 g protein, 4 to 14 g fat and up to 45 g carbohydrates.
Nutrient Requirements
Boost is fortified with vitamins and minerals, and it can help you meet your requirements, especially if you are having trouble eating enough nutrient-dense foods, or you cannot or do not want to swallow a daily multi-vitamin and mineral tablet. Each serving of most varieties of Boost provides at least 25 percent of the daily value for all of the vitamins and many essential minerals, including calcium, iron and zinc. The shakes also provide high-quality protein
Weight Control
According to the Centers for Disease Control and Prevention, staying within a normal weight range can reduce your risk for chronic conditions such as type 2 diabetes, osteoporosis and heart disease. Boost nutritional drinks can be good for you if they help you maintain a healthy weight. Drinking Boost instead of a higher-calorie meal can help you lose weight or prevent weight gain. If you need to gain weight, you can drink Boost in between meals or as part of a meal to add extra calories.
Special Needs
Boost can help you meet your individual nutritional needs. Boost for Weight Gain, with 360 calories, is for people with health conditions who have trouble getting enough calories; Boost High Protein provides 15 g protein, or 30 percent of the daily value. If you have diabetes, Boost Glucose Control claims it can help you maintain your blood sugar levels within the guidelines provided by the American Diabetes Association. Regardless of your health condition, only use Boost with your doctor's approval and do not use it instead of proper medical treatment.