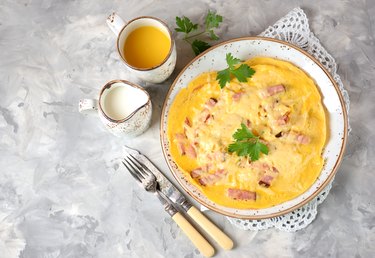 Anemia occurs when your body does not have enough red blood cells. This happens either when the body does not create enough red blood cells, or when the ones it does create are being destroyed. This is a serious health problem because red blood cells carry oxygen to every part of your body. Without oxygen your organs, including your brain, cannot function properly. One way to combat anemia is by eating a diet rich in iron and in the foods that help you absorb iron.
Start With a Hearty Breakfast
A good way to combat anemia, according to Harvard Medical School, is to eat a diet rich in vitamin B-12, folate and iron. Vitamin B-12 is found only in animal products and fortified foods, while leafy green vegetables contain folate and iron. Folate is also found in avocados, bread, mangoes, oranges, papaya and pomegranate. Iron is found in nuts, seeds and whole grains. A spinach omelet with whole grain toast and a glass of orange juice provides B-12, folate and iron. Or you could have oatmeal or a fortified cereal with chopped nuts and mango or papaya sprinkled on top.
Enjoy a Late Morning Snack
Nuts are a good source of iron, according to the physicians at Family Doctor.org. They are also high in protein, which can help you feel full until it is time for lunch. Have 1 to 2 ounces of cheese and some dried fruit, along with dry roasted, unsalted mixed nuts to round out your snack.
Plan an Iron-Packed Lunch
Meat, poultry and seafood are your best foods for anemia, according to the experts at Crozer Keystone Health System, so plan your lunch around a lean protein such as chicken. A sandwich containing chicken, a slice of cheese, either romaine lettuce or spinach, and some sliced red pepper or tomato gives you iron, B-12, folate and vitamin C. Seafood ceviche is also high in iron, as is a leafy green salad with tomatoes.
Indulge in Anemia Treatment Afternoon Treats
A light snack in the afternoon can help keep your iron levels and blood sugar up, and keep hunger at bay so that you can make smarter choices at dinner. Non-heme iron-rich foods — those that don't come from animal sources — are generally lower in calories and saturated fats, but your body will only absorb between 2 and 10 percent of your food's non-heme iron, according to the American Red Cross. Pairing non-heme iron with vitamin C helps your absorption, so consider an apple or orange with a handful of nuts, or whole grain granola with chopped nuts and dried fruits for a light and satisfying snack.
Do a Smart and Delicious Dinner
Dinner offers you a great chance to get your heme iron. Half of your plate should be leafy green vegetables, so consider a fresh spinach salad with chopped walnuts, red pepper and goat cheese dressed with olive oil, lemon juice a little salt and pepper. Any kind of meat or seafood goes well with this, but shrimp or chicken makes for an especially pleasing iron-rich meal.
Anemia Menu for Vegetarians and Vegans
Avoiding animal products, which are the best source of vitamin B-12, can pose a challenge when it comes to creating an anemia diet plan, but it is certainly not an insurmountable one. Many plant-based foods are high in iron. Non-heme iron is not as easy for your body to break down and use, so it needs to be paired with vitamin C. Stay away from coffee, tea, milk and whole grains when eating non-heme foods, because they contain things like tannins and polyphenols that can interfere with the absorption of iron. The experts at Cleveland Clinic recommend consulting your health-care provider to figure out exactly how much iron you need in a day so that you can plan your meals accordingly.