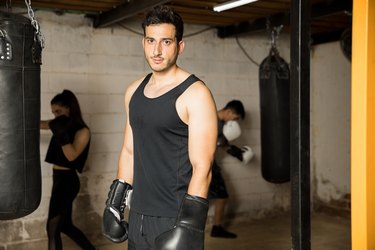 USA Boxing is an organization that extends all the way from the national Olympics program down into local grassroots boxing clubs. As a sport, boxing has a long history in the United States, and is very popular in large urban areas, from which many of the country's best fighters have emerged. USA Boxing helps sanction fights and establish rules for boxing matches. It requires coaches of competing boxers to receive certification.
Basic Requirements
Coaches must meet certain parameters before they are eligible for certification. A prospective coach must be at least 18 years old. Coaches can receive certification for Level 1 through Level 3 coaching through local clinics and USA Boxing offices. For Level 4 coaching, though — the kind that features rising stars and potential Olympic talents — coaches must be certified by the national USA Boxing office. Certification can depend on the level at which the coach is working. Higher levels feature more rigorous and thorough training. A certification is valid for 24 months before it must be renewed.
High-Level Requirements
Any coach intending to work at Level 3 or Level 4 must also receive CPR and first aid training, in addition to standard training for the certificate from USA Boxing. This is because of increased risk of injury at these levels, with competitors more likely to sustain serious injuries or even have emergency situations such as cardiac arrest or loss of consciousness.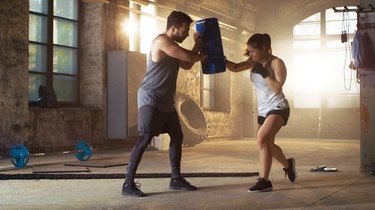 Learning the Rules
Coaches receiving certification from USA Boxing must thoroughly understand the rules of the game, including what a coach is allowed to do during a match. For example, only one coach — usually the head coach — is allowed to step inside the ring with a boxer, and this may only occur between rounds.
Midfight coaching is allowed, but the coach must be seated at a chair placed away from the immediate fighting ring. Coaches are not allowed to interact with fans, because this increases the risk of a dispute or brawl in the stands.
If a coach is concerned about the safety of his boxer, he can resign the fight for the boxer by throwing a towel into the ring during a round. Coaches are taught and tested on the rules during the certification process.
Continuing Education
Every two years, USA boxing coaches (and other non-athlete members) must complete SafeSport training. The training consists of three parts: sexual misconduct and awareness education, mandatory reporting and emotional and physical misconduct. In other to keep your certification, you must complete all three portions.