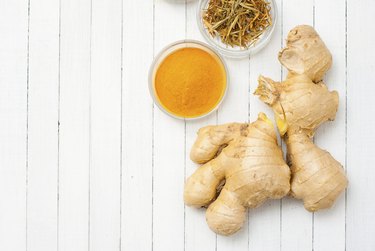 Derived from the Curcuma longa plant's root, turmeric is commercially available as fresh root nodes, a spice powder for use in cooking, or in the form of turmeric capsules for medical use. Turmeric's active compound, curcumin, is responsible for the spice's many health benefits.
Turmeric Dosage Amounts
It's also important to note that turmeric has a low bioavailability, which means that it is often poorly absorbed. Eating turmeric with foods that are high in fat, like nuts and avocados, will also help your turmeric dosage be better absorbed by your body.
Alternatively, consuming black pepper with turmeric capsules can also help. According to the UMass Medical School Center for Applied Nutrition, it is the compound piperine, in black pepper, that is responsible for increasing the bioavailability of turmeric. It works by inhibiting the liver's mechanism for the excretion of water-soluble substances.
Turmeric and Stomach Pain
When it comes to turmeric and stomach pain, too much turmeric can sometimes be a bad thing. The authors of an October 2017 study published in Foods report that in a small study with seven people, high doses of curcumin resulted in headaches and rashes. Some even experienced nausea and diarrhea, coupled with yellow stool.
Those who have incorporated a repeated, long-term turmeric dosage into their diets may not necessarily experience the purported turmeric benefits. In fact, the opposite can happen, and you can end up with stomach issues, explains the National Center for Complementary and Integrative Health. Consulting your primary physician is always advisable before starting turmeric capsules.
Other Turmeric Side Effects
An excess of turmeric and rash development may go hand-in-hand. According to a March 2014 study published in Contact Dermatitis, researchers found that one example of turmeric's side effects on the skin of sensitive people is contact dermatitis.
Contact dermatitis is often caused when the skin comes into direct contact with the substance causing the allergic reaction — in the case of this study, it was from contact with turmeric powder or a curcumin coloring agent. However, fewer than 10 cases of contact dermatitis from turmeric have been recorded which, isn't enough for a definitive proof of the phenomenon.