Delicate rice noodles sauteed with tofu, bean sprouts, chicken, shrimp and plenty of spices sounds healthy, but the calories in pad thai can add up quickly. Depending on how it's prepared, pad thai can be moderately nutritious or it may blow half your calories for the day.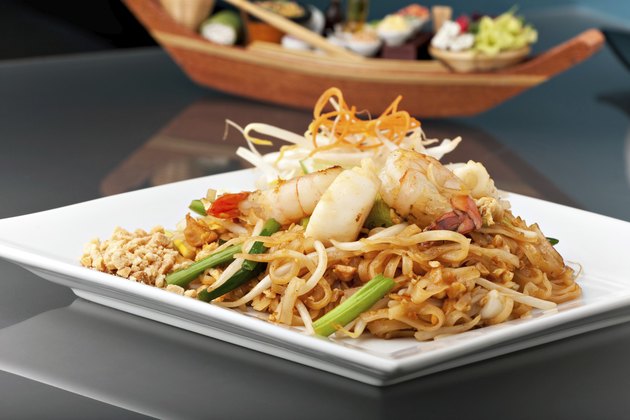 No Two Plates Are Alike
The nutritional profile for restaurant pad thai varies widely depending on ingredients and preparation. A 13-ounce serving of chicken pad thai without peanuts has a respectable 380 calories, 10 grams of fat and 15 grams of protein. The same serving size of tofu pad thai is slightly lighter with 350 calories, 10 grams of fat and 8 grams of protein.
Size Matters
When you eat at a restaurant, your plate will almost certainly hold more than 13 ounces of pad thai. A full restaurant serving may contain upwards of 1,000 calories and a hefty dose of fat and sodium, according to the Daily Plate. Eat only half the serving or choose a healthier option from the menu such as spring rolls, hot and sour soup, or cashew chicken.
Homemade and Healthy
You can improve the nutritional profile of pad thai by making it at home. Double or triple the bean sprouts and vegetables and go easy on the oil and soy sauce to reduce fat and sodium. Add more lean protein, including shrimp and chicken, and reduce the amount of noodles because they are essentially pure refined carbohydrates.