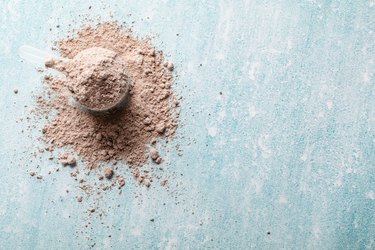 Bloating, headache, fatigue: these are among the side effects of whey protein isolate, a milk protein separated in the cheese-making process. Despite its sometimes deleterious effects, whey protein has been widely studied and found to have benefits as well.
What is Whey Protein?
You may have heard of whey protein in relation to dairy, as one of two proteins contained in milk. MedlinePlus describes it as the protein contained in whey, the watery part of milk separated from curds in the process of making cheese. And according to USAID, it can be produced by removing a portion of non-protein components from pasteurized whey. The techniques by which it is separated include precipitation, filtration and dialysis.
Mayo Clinic details the way in which whey protein acts to provide amino acids needed to execute the functions proteins perform in the body. It's most often used for the purpose of weight-gain and nutrition supplementation or to improve fitness performance. Hence the reason why you may have seen it added to pre or post-fitness shakes. In general, it can be added to liquids, such as smoothies or soft foods like applesauce.
Compared with whey protein concentrate, whey protein isolate contains a higher percentage of protein at about 90 percent, while whey protein concentrate often contains a 34 or 80 percent protein concentration. Whey protein concentrate is typically packaged in air-tight bags and is used to enhance texture, flavor, color and quality of food.
Whey Protein Side Effects
Nausea
Thirst
Bloating
Cramps
Headache
Fatigue
Reduced appetite
If you're pregnant, you should steer clear of whey protein, as there's not enough evidence on the safety of consuming whey protein when breastfeeding. Moreover, keep in mind that if you have an allergy or sensitivity to dairy products, you should avoid whey protein as it will only exacerbate your gastrointestinal issues.
You'll want to take heed if you're planning to have whey protein while on other medication. Certain medicines can cause a negative interaction, or decrease absorption. For instance, Mayo Clinic recommends avoiding whey protein if you're taking the parasite-killing drug, Albendazole.
If you're taking Alendronate to treat osteoporosis, note that whey protein may decrease absorption of the medication. Likewise, certain antibiotics, such as quinolone or tetracycline, are less likely to be absorbed with the consumption of whey protein.
Whey Protein Benefits
There have been numerous studies on the effects of whey protein concerning everything from whether it improves fitness performance (studies have shown mixed results) to whether it improves memory (generally, it doesn't). Some benefits, according to Mayo Clinic include:
Helping with weight gain for older adults or those with HIV/AIDS.
Benefiting those recovering from burns and chronic wounds.
Possibly increasing muscle mass and helping speed recovery after a workout (some studies show there's no benefit to taking whey protein for fitness purposes.)
MedlinePlus lists other benefits, such as:
An allergy remedy (according to research, infants who consume whey protein in their first three to 12 years, are less likely to be allergy-prone, than infants with regular formula).

A plaque psoriasis and eczema reducer (infants who have whey protein in their first three to 12 months are less likely to develop eczema by the age of three, and some evidence has conveyed that taking whey protein for eight weeks can reduce skin that is red and scaly, symptoms of psoriasis.)