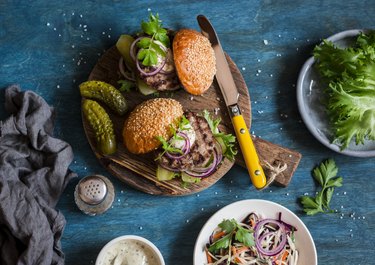 Burgers are an American classic at home, backyard barbecues and on restaurant menus. However, those watching their waistlines shouldn't fear the harmful effects of eating burgers, as they can fit into a diet plan when eaten in moderation or made in a healthier manner.
Tip
Even if you're watching your waistline, you don't have to rule out burgers. The high protein content found in burgers is just one reason that the American menu staple can be incorporated into a healthy lifestyle and diet.
Pros and Cons of Burgers
The U.S. Department of Agriculture (USDA) emphasizes that foods in the meat, poultry, fish, eggs, nuts and seed group provide vital nutrients for the health and maintenance of your body, including protein. However, foods from this group can also be high in saturated fat and cholesterol.
A September 2018 study published in Appetite suggests that "consumption of, and proximity to, fast food has therefore been established as a potential risk-factor for diet-related poor health." A June 2019 study published in the Academy of Nutrition and Dietetics suggests that even though healthful options have been added to fast-food menus, fast-food entrees, sides and desserts have increased significantly in calories, sodium and portion size since the late 1980s.
To counteract the potential health risks, try a different cooking method when making burgers. Opt for a homemade recipe that reduces the amount of preservatives and sodium while allowing you full control over burger ingredients. Or, if you're having a barbecue or are pressed for time, opt to grill a frozen burger rather than frying it in oil.
Burgers Are Protein Powerhouses
The Academy of Nutrition and Dietetics says that a hamburger can fit within a healthy eating plan, explaining that the meat patty is a valuable source of protein. The 1-ounce equivalent of protein is 1 ounce of cooked lean beef. A small lean hamburger is approximately equal to 2 to 3 ounces of cooked protein, whereas a soy- or bean-based vegetarian burger patty is the equivalent of 2 ounces of cooked protein.
Up the health benefits by topping your burger of choice with vegetables, such as tomatoes, onions and lettuce, rather than slathering on mayo and ketchup, which can be packed with sugar and saturated fat. Also, opt either for a whole-grain bun or forgo the bread altogether with your burger.
Currently, there are plenty of new plant-based burger options that are as packed with protein as their meat counterparts, but with reduced or eliminated cholesterol, calories and saturated fats.
Even fast-food chains are jumping on the plant-based burger trend. The healthiest fast-food burger options at establishments, such as White Castle, Del Taco, Subway and more, are incorporating plant-based protein sources such as Beyond Meat and the Impossible Burgers as a choice, along with traditional burgers.
Recipe for a Burger Alternative
For those looking for a non-vegetarian yet healthier burger option, the Mayo Clinic suggests using ground turkey. A traditional ground beef burger supplies 354 calories and 17 grams of fat, according to the USDA, but substituting ground turkey breast for the beef reduces both the fat and calories. This turkey burger recipe, for example, clocks in at only 4 grams of fat and 296 calories per burger.
1 pound ground turkey breast
1/4 cup dried plain bread crumbs
1/4 cup chopped onions
2 tablespoons fresh parley, chopped
2 teaspoons Worcestershire sauce
1 teaspoon hot pepper sauce
4 whole-grain buns
4 slices tomato
4 slices red onion
2 bibb lettuce leaves, halved
2 tablespoons fat-free mayonnaise
In a large bowl, combine the ground turkey breast, bread crumbs, chopped onion, parsley, Worcestershire sauce and hot pepper sauce.
Divide the mixture into four equal portions. Form into patties.
Use a charcoal or gas grill or broiler. Lightly coat the cooking rack or a broiler pan with cooking spray.
Position the burgers 4 to 6 inches away from the heat source.
Grill burgers about seven minutes on each side, until they are thoroughly heated and browned evenly on both sides.
Insert each burger into a bun and top with a tomato slice, an onion slice, half a lettuce leaf and 1/2 tablespoon of fat-free mayonnaise.