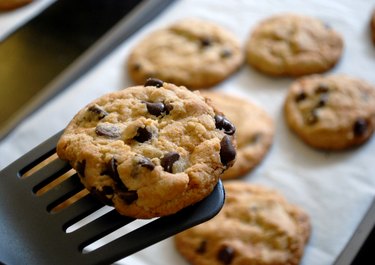 Semi-sweet morsels, aka chocolate chips, are often used in baking, most notably in recipes like chocolate chip cookies. Whether or not they're healthy depends on which type you eat and how often you eat them.
Semi-sweet chocolate, also known as bittersweet chocolate, is usually about 60 percent cocoa and hovers between milk and dark chocolate, taste-wise. Chocolate "morsels," which just means tiny pieces of chocolate, are a great staple to have on hand — use them for baking chocolatey desserts or stir them into pancake or waffle batter.
Here's everything you need to know about just how healthy chocolate chips really are.
Semi-Sweet Chocolate Chips Nutrition
One tablespoon of semi-sweet chocolate chips or morsels is equal to a single serving and contains the following nutrition, according to the USDA:
​Calories:​ 80
​Total fat:​ 4 g
​Cholesterol:​ 0 mg
​Sodium:​ 0 mg
​Total carbohydrates:​ 10 g
​Protein:​ 1 g
Half of the calories in chocolate chips come from carbs, most notably, sugar. Per tablespoon, there are 8 grams of sugar in chocolate chips. The rest of the calories come from fat (45 percent) and protein (5 percent).
Nestle Chocolate Chips Nutrition
Nestle is a popular brand you may have seen in the baking aisle of your local grocery store. According to the USDA, one tablespoon of Nestle Semi-Sweet Chocolate Chips has the following nutrition:
​Calories:​ 70
​Total fat​: 4 g
​Cholesterol:​ 0 mg
​Sodium:​ 0 mg
​Total carbohydrates​: 9 g

​Fiber:​ <1 g
​Sugar:​ 8 g

​Protein:​ <1 g
The calories in Nestle chocolate chips mostly come from sugar, then fat, then protein.
Nestle Milk Chocolate Chips Nutrition
According to the USDA, one tablespoon of Nestle Milk Chocolate Chips contains:
​Calories:​ 70
​Total fat:​ 4 g
​Cholesterol:​ 0 mg
​Sodium:​ 0 mg
​Total carbohydrates:​ 9 g

​Fiber:​ <1 g
​Sugar:​ 8 g

​Protein:​ <1 g
White Chocolate Chips Nutrition
White chocolate is not made with cocoa like other types of chocolate, which is why it doesn't have the distinct chocolate brown color. Instead, white chocolate is made primarily with sugar and cocoa butter — the oily fat extracted from the cocoa bean.
According to the USDA, one tablespoon of White Chocolate Chips contains:
​Calories:​ 80
​Total fat:​ 4.5 g
​Cholesterol:​ 0 mg
​Sodium:​ 15 mg
​Total carbohydrates:​ 9 g
​Protein:​ 1 g
While the taste and texture are very different, white chocolate chips don't differ so much from semi-sweet morsels or milk chocolate chips, though they have a bit more saturated fat because of the cocoa butter.
What Are the Different Types of Chocolate Chips?
Chocolate chips are usually made from varying amounts of sugar, chocolate, cocoa butter, milk fat and soy lecithin. Some of the most popular chocolate chip brands are Nestle, Hershey and Ghirardelli. These brands are pretty comparable in terms of calories, fat and sugar in their chocolate chips.
Semi-sweet morsels are generally made with dark chocolate that has a higher percentage of cocoa, which gives it a slight bitterness. Unlike semi-sweet chocolate, milk chocolate has nonfat milk in the recipe, which gives it a creamier, milder taste. White chocolate has no cocoa, and the primary ingredient in it is cocoa butter, giving it a rich texture and flavor.
Are Chocolate Chips Healthy?
Because all chocolate (except white chocolate) is made from cocoa, chocolate chips can be rich in antioxidant compounds that are linked to a number of health benefits for your heart, like lower cholesterol and blood pressure, according to Harvard Health Publishing.
That said, it's important to read nutrition labels for different products carefully to ensure you are buying healthy chocolate chips. Look for labeling that states the percentage of cocoa in the chocolate. The more cocoa your chocolate has, the more health benefits it may offer.
Some brands may vary, but in general, aim for no more than 8 grams of sugar per serving of chocolate chips.
What Is Healthier Than Chocolate Chips? Alternatives to Try
If you're looking for a healthier alternative to chocolate chips that you can use in recipes, you can try using something like Baker's Unsweetened Baking Chocolate ($2.69, Target). Not only does this bar of baking chocolate have no added sugars in it, it's also made with 100 percent cacao — which means more antioxidant benefits for you!
Just keep in mind, baking chocolate is made with more cocoa butter, which means your it may be more melty and gooey in your finished baked products than chocolate morsels, which are firmer and hold their shape better.
If you have allergies to chocolate or dairy, you can try dairy-free Carob Chips from Chatfield's ($11.69, Amazon), which are made from the carob bean and have a chocolate-like flavor that's perfect for baking.
Lastly, you can always opt for Organic Cacao Nibs from Navita's ($9.99, Amazon), which are made with 100 percent cacao solds and offer extra antioxidants, protein and fiber.