There are a lot of crash diets out there claiming you can lose a lot of weight in one to two weeks. Usually it's by following unrealistic or unhealthy diet plans that involve cutting out foods or food groups.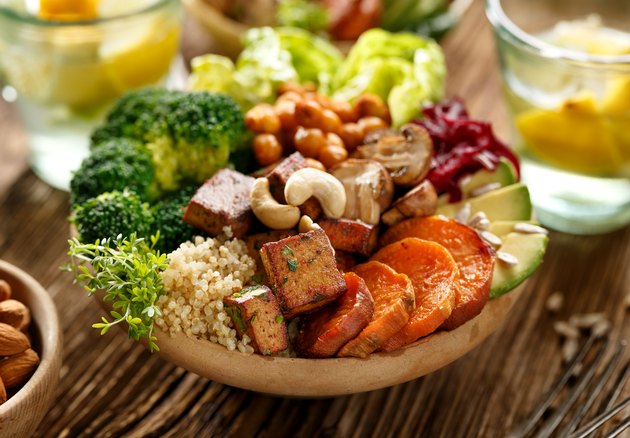 If you want to lose weight in a healthy and sustainable way, it takes a little more time. Eating a healthy diet and exercising for three months can help you safely lose about 12 to 24 pounds. Stick to your healthier lifestyle even after those three months have passed to prevent the weight from returning.
Start With Your Diet
Your diet plays the biggest role in weight loss. In order to burn fat, you need to eat fewer calories than you expend each day through your daily activities and exercise. If you keep the right foods on hand and don't cheat, this isn't hard to do.
Cut out junk foods. Fast food, chips, cookies, cakes and fried foods pack a ton of calories and little nutrition. Sodas and other sweetened beverages — including fruit juice — are also big calorie-busters. Skipping these foods and drinks each day will make a big difference over three months.
Fill up on fiber and protein. Fiber is the the indigestible matter in plant foods such as broccoli, apples and brown rice. It's important for healthy digestion, which can aid weight loss, but it's also satiating. The more fiber you eat, the fuller you'll feel to control your calorie intake. Protein has the same effect. Make lean proteins such as white fish, chicken breast, egg whites, tofu and beans the center of your mealtime plates.
Choose whole grains. White bread, rice and pasta have been stripped down — or refined — during processing. They digest quickly into sugars, which can spike your blood sugar and leave you feeling tired and hungry. Whole grains digest slowly and keep you feeling full longer. Examples of tasty whole grains to put in salads or serve alongside fish include quinoa, brown rice and wild rice.
Eat simply. You don't need rich sauces or a lot of cheese to make foods taste good. Plan meals that consist of a lean protein, some veggies and a whole grain. Season with salt, pepper, lemon juice, garlic and other herbs and spices, such as mint, basil, cayenne, cumin and turmeric. These flavor foods without adding calories.
Eat less. This is seems obvious, but it's a good reminder. Don't eat more than you need to supply your body with energy. Never eat to the point of feeling full. Take smaller servings, eat slowly and pay attention to your body's cues for hunger and satiety.
Add in Exercise
While you can lose weight in three months just by changing your diet, increasing your activity level will help you burn even more calories for more significant results. Exercise will also improve your health and the way you feel.
Just get moving. If you haven't been exercising, don't stress out about joining a gym, getting the right workout clothes, or burning a certain amount of calories each workout. Put on your walking shoes and get outside or on the treadmill for a brisk walk or jog for at least 30 minutes a day. Then, you can start adding in some other activities, such as exercise classes, cycling or stair climbing.
Build some muscle. Exercises like push-ups, pull-ups, squats and planks strengthen your muscles and build muscle mass. Muscle is more metabolically active than fat; the more of it you have, the higher your resting metabolism. You can do body weight exercises at home or you can join a gym. Whatever you do, work up to doing two total-body strength training workouts each week. If you're already strength training, try switching up your program or lifting more weight so you don't plateau.
Be consistent. People typically start an exercise program feeling super motivated and then start skipping workouts when life gets busy or they lose interest. Exercising becomes a habit when you do it regularly — that's also when you start to see results. You can do anything for three months — including exercising.
Increase the intensity. Once you have a solid base and you're feeling good with your exercise plan, up the intensity a notch or two. Walk or jog a little faster, do an extra set of each exercise in your strength program, or go a little farther than you normally do. It will add up to more calories burned and more weight lost at the end of 90 days.
Measuring Results
People often talk about losing weight, but what they really mean is losing fat. Your goal in the next three months is to lose fat and gain muscle.
Since fat takes up more space than muscle pound for pound, you'll gradually lose inches and your clothes will fit better — or more loosely. The number you see on the scale isn't as accurate; as you build muscle and lose fat, that number may stay the same.
In the beginning of a weight-loss program, fat loss often happens quite quickly. If you're really dedicated, you may notice significant results right away; after a month or two, your fat loss will likely level off a bit.