When trying to lose weight, you need to cut calories while still getting enough of the essential nutrients. This means eating 3,500 calories less than you burn through your daily activities for each pound of weight you want to lose. To drop one to two pounds per week, you should eat 500 to 1,000 fewer calories per day. Avoid diet plans that promise you'll shed pounds fast, because slow, steady weight loss is a much healthier way. Certain foods make you more likely to gain weight and don't provide a lot of nutritional value, so they should be the first foods to cut out when you're trying to lose weight.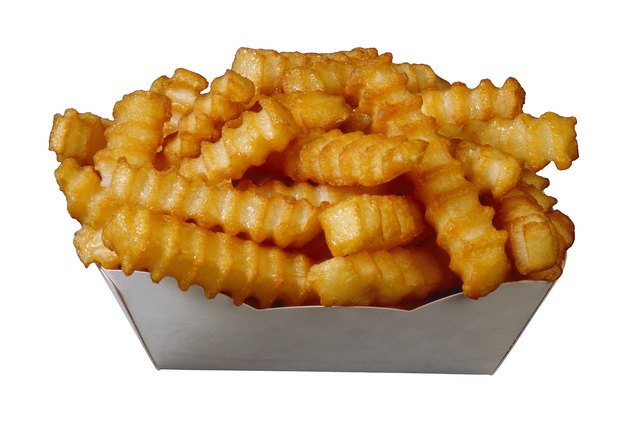 Limit Foods With High-Energy Density
A review article published in the Journal of the Academy of Nutrition and Dietetics in May 2012 found that trading foods with a higher energy density -- measured in number of calories per gram of food -- for those with a lower energy density may help with weight loss. You can eat a greater volume of low-energy-density foods while still staying within your recommended number of calories for the day, which means that you'll feel full for longer and find it easier to stick with the diet. Foods with a high fiber or water content tend to have a lower energy density, while those high in fat or sugar tend to be high in energy density. Fried foods, whole-milk dairy products, fatty cuts of meat, foods made with refined grains and sweets are high in energy density and best limited or avoided when trying to lose weight. Fruits, vegetables, broth-based soups and whole grains, on the other hand, are relatively low in energy density.
Avoid Highly Processed Foods for Weight Loss
A study published in Public Health Nutrition in March 2015 found that as people in Sweden ate a higher percentage of processed and highly-processed foods, the percent of the population that was obese increased as well. The same was noted in a study that was published in Health Economics in February 2011 that took place in Guatemala, with greater increases in weight being caused with increasing levels of food processing.
Part of the explanation may lie in how whole foods and processed foods affect your body. A study published in Food & Nutrition Research in 2010 reported that when similar meals with the same amount of calories were made with whole versus processed foods, the people who ate the meal made with whole foods burned almost 50 percent more calories digesting the meal than those who ate the processed version of the meal. Pre-made, frozen or ready-to-eat meals or snacks are among the most processed foods, including crackers, deli meat, frozen pizza and sweets. When unprocessed foods aren't feasible, choose minimally processed foods instead, such as canned or frozen fruits or vegetables, roasted nuts and canned or frozen seafood.
Cut Out High-Glycemic-Index Foods to Lose Weight
Glycemic index is used to measure how much and how quickly a given food affects your blood sugar levels. Foods with a high glycemic index may cause these levels to spike, while those lower on the glycemic index keep blood sugar levels more steady, which may also help control hunger. A review article published in the Cochrane Database of Systematic Reviews in July 2007 noted that decreasing the glycemic index of a diet can be just as effective as following a reduced-calorie, low-fat diet for weight loss. Highly processed foods, refined grains, potatoes, crackers, rice cakes, ready-to-eat cereals, pineapple and melon have a high glycemic index, with scores above 70. Better options, with low glycemic index scores of 55 or below, include carrots, non-starchy vegetables, most fruits other than pineapple and melon, oatmeal, 100-percent whole-wheat bread, barley, legumes, peas, sweet potatoes and corn.
Other Foods to Avoid or Limit
A study published in The New England Journal of Medicine in 2011 found that the more people ate of certain foods, the more likely they were to gain weight over time. These foods include potatoes in any form -- but especially potato chips -- desserts and other sweets, refined grains, sugar-sweetened beverages, processed meats, red meat and alcohol. On the other hand, eating more whole grains, yogurt, nuts, fruits and vegetables helped people limit their weight gain, so these are good foods to eat if you're trying to lose weight.