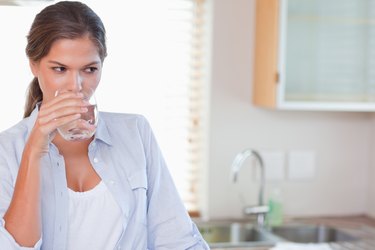 Being constipated may be uncomfortable and even painful, but there are ways to help get your bowels back on a regular schedule. Constipation is defined as having less than three bowel movements a week, according to the National Digestive Diseases Information Clearinghouse. It is usually a symptom of something else, like poor diet, and may happen after childbirth or surgery, says NDDIC. Using a fiber supplement can help relieve constipation and encourage regularity. Before using any fiber supplement, ask your health care provider if it is safe for you to use. If you are giving it to children, consult with their pediatrician first.
Step 1
Add 2 tsp. of Benefiber powder to 4 to 8 oz. of your drink, three times daily. The drink can be hot or cold; the product's website recommends not using carbonated drinks with Benefiber. The powder can also be stirred into soft foods of any temperature, using the same amount of powder. If you are using the stick packs of Benefiber, empty out one powder pack into 4 to 8 oz. of your drink or soft food. Once the powder has been added, stir well until it has dissolved. Children should use one teaspoon of powder, three times daily.
Step 2
Chew three Benefiber chewables three times a day, according to the product's website. Children ages six to 11 should only chew one and a half tablets up to three times a day, and children under six should not use the product.
Step 3
Swallow Benefiber caplets with liquid up to three times a day. The Benefiber website states you should not exceed nine tablets daily. There are no dosing recommendations for children for the tablets.
Step 4
Use the cap from the bottle of Miralax to properly measure out this product. The cap is actually a measuring device, and indicates the appropriate dosage of the powder. Fill the cup to the marker with the powder and add the powder to 4 to 8 oz. of your drink. Stir it well and drink. If you are using the single dose individual packets, empty one packet into 4 to 8 oz. of a drink and stir it well.
Warning
Before giving children a laxative such as Benefiber or Miralax, consult with a pediatrician to see if it is safe for them. Individuals with bowel disorders or medical conditions should also ask their doctor if using these laxatives is appropriate.