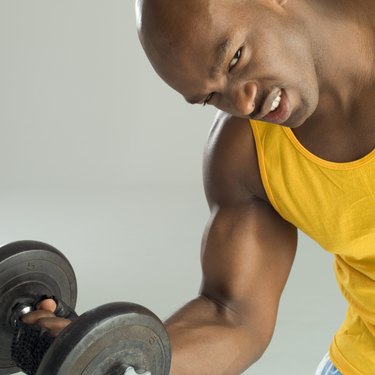 Former world heavyweight champion Evander Holyfield is considered a small heavyweight compared with some of the behemoths that populate the division, dating from the early 1990s. Holyfield had to build up his 190-lb. cruiserweight body with a carefully targeted weight-training program to get to 215 lbs., so he could successfully compete against men who weighed close to 240 or 250. Holyfield had to gain the extra weight without sacrificing speed, agility and flexibility.
History
Holyfield became a professional boxer in November 1984 as a 175 lb. light-heavyweight. His strength and physical maturity saw him matched against tough opponents from the beginning of his career; however, the powerful, muscular and physically maturing young man had difficulties staying within the light-heavyweight weight limit. He promptly moved up to the 190 lb. cruiserweight class and in only his twelfth professional fight won his first world title in July 1986 against Dwight Quawi.
Making of a Heavyweight
Holyfield had his first fight as a heavyweight in July 1988. Interviewed by Pat Putnam of "Sports Illustrated" in April 1988, Holyfield's training adviser, Lou Duva, said Holyfield's training regime, designed to turn him into a genuine heavyweight, would be supervised by orthopedic surgeon Richard Calvo, who ran a sports medicine clinic in Texas, with fitness trainer Tim Hallmark in charge of strength and conditioning.
Traning and Nutrition
Interviewed in the Dec. 6, 1988, edition of "The New York Times," Hallmark outlined Holyfield's training strategy: Holyfield did a two-hour early morning strength-training session three times a week using free weights and resistance machines. Hallmark emphasized the use of heavy weights for explosive movements, with rest periods between sets, as opposed to circuit-style exercises Holyfield did as a cruiserweight. Holyfield ate a breakfast high in protein and complex carbs before and after his morning sessions, rested for a few hours and did boxing drills. Then he had a high-protein and complex carbs lunch with vegetables, and a rest period followed by conditioning and cardio work.
Growth
Holyfield, according to the interview in "The New York Times," ate four to five times a day as a heavyweight instead of the two meals as a cruiserweight. Hallmark noted a change in Holyfield's body structure: a 2-inch growth of his neck to 19 inches; much bigger chest, shoulders, quadriceps and buttocks; and an expected body weight of between 208 and 210 lbs. in his next heavyweight fight.
Hatfield's Influence
Former power lifting champion Frederic Hatfield, Ph.D., was brought in to supervise Holyfield's strength and conditioning work prior to his heavyweight world title fight against James "Buster" Douglas in 1990, according to Sportsci.org. With former bodybuilding world champion and eight-time "Mr. Olympia" Lee Haney monitoring his progress, Hatfield introduced a modified bodybuilding and strength program to increase Holyfield's body mass from 208 lbs. to close to 220 lbs.
Holyfield and Mr. Olympia
Holyfield's weight training program consisted of easy, moderate and high-intensity sessions, says Sportsci.org. Utilizing a split routine, chest workouts included flat bench press, dumbbell bench press and incline dumbbell bench press. Shoulder workouts included seated dumbbell press, dumbbell front raises and lateral raises. Back workouts included bent-over rows, back extensions and lat pull-downs. Arm work included EZ curls, dumbbell curls, close grip bench press, bar-dips and triceps push-downs. Leg workouts included safety squats, keystone dead-lifts, walking lunges, glute-ham raises, twisting squats and leg curls
World Heavyweight Champion
On Oct. 25, 1990, Holyfield knocked out Douglas in the second round to become the undisputed World Heavyweight champion. Weighing a lean, muscular 208 lbs., he did not come close to the 220 lb. body weight Hatfield desired. Holyfield turned 49 on Oct. 19, 2010. He still follows a weight training program to maintain a body weight of around 215 lbs. and holds fast to his improbable dream of becoming world heavyweight champion again.