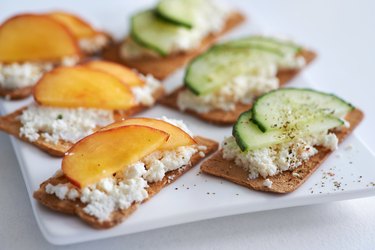 Snacks are an important part of a healthy diet for children, teens and adults. Choosing healthy snacks can be helpful if you are trying to manage your weight, lessen hunger between meals and boost energy. Small, low-fat snacks, eaten throughout the day, may reduce cravings, hunger and impulsive eating. Eating unhealthy snacks that have simple and concentrated sugars, refined carbohydrates or high levels of trans fats can cause blood sugar levels to rise and fall quickly, which may lead to moodiness, irritability and fatigue.
Vegetables
Fresh vegetables are healthy low-fat snacks you can eat instead of sugary or high-fat foods. Prepare carrots, celery, broccoli or red, green or yellow peppers ahead of time and keep them in the refrigerator so you can always grab an easy, colorful, tasty and nutritious snack. You can serve fresh, raw vegetables with dips such as hummus, low-fat cream cheese or salad dressing, or natural peanut and almond butter spreads. You can also make hot vegetable snacks, including sweet potato fries, by cutting baked sweet potatoes into wedges and tossing them with a little salt and olive oil; low-fat vegetable soup; or corn tortillas around vegetarian refried beans and light Mexican cheese mix and heated until the cheese melts.
Fruit
Some of the most nutritious snacks contain foods from two or more of the major food groups. Good examples of nutrient-rich fruit snacks are apples with peanut butter or any other fruit and nut combinations, and peaches with cottage cheese or other snacks combining fruit and a low-fat dairy food. Other fruit snacks are fresh citrus fruits, such as oranges and tangerines, or dried fruits, apple slices, grapes and strawberries. You can make fruit kabobs by skewering fruit chunks carefully onto pretzel sticks. Unsweetened applesauce and fruit sorbet are low-fat snacks, as are homemade flavored ice with low-fat yogurt and 100 percent fruit juice. You can also dip fruits, such as bananas, in nonfat yogurt.
Grains
A 2008 study published in the journal "Nutrition, Metabolism & Cardiovascular Diseases" discovered that people's heart health improves when they consume more whole grains, such as oatmeal, barley and brown rice. Researchers also found that higher whole grain intake is linked to a reduced risk for both stroke and heart disease. Some grain-based snacks include whole-grain cereal, granola with fruit, low-fat bran muffins, pita wedges dipped in hummus or pita pocket bread stuffed with tomato, lettuce, cucumber and low-fat salad dressing.
Dairy
If you want to serve or eat healthy, low-fat snacks, try to use only nonfat or low-fat dairy product such as 1 percent or skim milk, low-fat string cheese or nonfat yogurt and cottage cheese. Stock your refrigerator with these nutritious foods, so when you or your family feels hungry, you will all have a variety of tasty snacks to choose from. Quesadillas made with a corn or whole grain tortilla and shredded reduced-fat cheese are a quick and easy warm snack. For a cold snack, blend a smoothie with low-fat milk and nonfat yogurt plus one or more types of fresh or frozen fruit, including strawberries, banana, melon, peaches or apricots.