Boxing isn't an easy sport. In fact, the U.S. Olympic Committee voted boxing as the most difficult of 60 sports in a 2012 survey published by ESPN. Whether you just want to get into shape or step into the ring for real one day, you have a host of options at your disposal for boxing instruction. If you can't afford to attend a boxing gym, training using online sources represents the next best thing.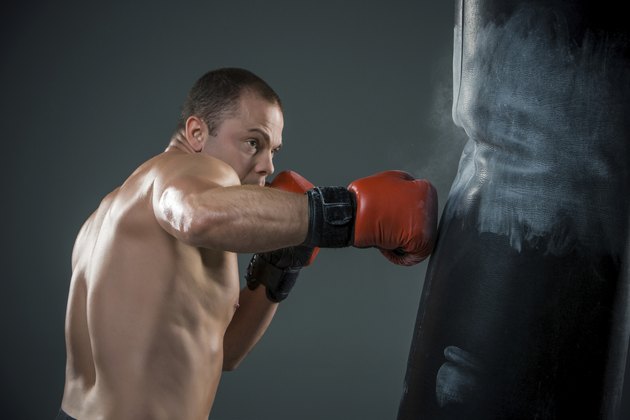 Buy the Equipment
If you're learning how to box through online instruction, you're going to need to put the techniques you've watched and read about into practice. To do this safely and effectively, you should purchase all of the essential equipment, including hand wraps, training gloves and a punching bag or two. As long as you have enough space to work with in your home or garage, you can practice your techniques and work on your conditioning safely.
Listen to the Experts
There are a plethora of boxing blogs, journals and supposed authorities spread across the Internet, but some are more competent and qualified than others. Two of the best sources for online boxing instruction and editorials are ExpertBoxing.com and RossBoxing.com. Expert Boxing focuses on boxing theory and technique, introducing you to the reasoning behind certain training and technical practices in the sport. Ross Boxing, on the other hand, was founded by former amateur boxer and current trainer Ross Enamait. Enamait runs one of the best online resources for detailed boxing workouts designed to make everyone from novice boxers to seasoned pros work hard.
Watch the Pros
You can read about proper form and technique all you want, but until you see someone putting those words into practice, you're going to be lost. Luckily, online boxing workouts are plentiful on YouTube and other media sites. You can find quality instruction from certified trainers and fighters, or watch actual tape of professional boxing matches to see how the pros do it.
Put it into Motion
If you just want to study boxing from a curiosity standpoint or if you're looking to get into shape, you might be able to get away with training from the comfort of your own home. However, stepping into the boxing gym and working with a competent coach makes a world of difference. You can read all about dodging a punch, but you won't know if you can do it until someone in the gym has you in his sights. Once you put some time in with qualified instructors, your free online boxing training will become easier to absorb, because you'll have a training base and hands-on experience to draw from.