Bicycle frame sizes are a lot more flexible than your shoe size. An 18-inch frame will fit a range of people with adjustments to the handlebars and seat. The precise and comfortable fit of a bicycle depends on the brand of the bike and your individual proportions, so be prepared to try a bike on for size before you purchase it.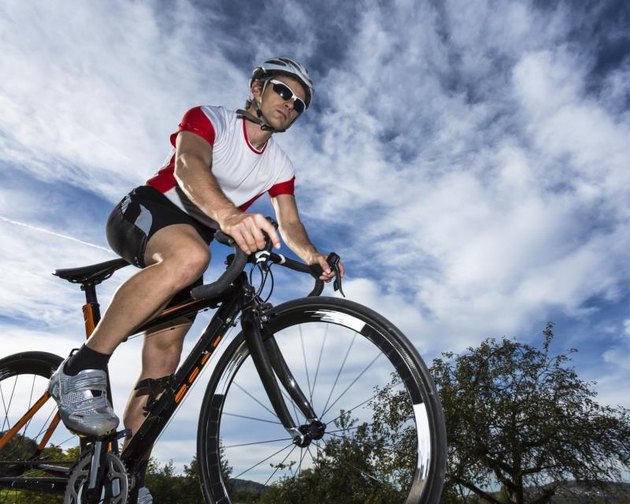 Size Yourself Up
The length of your legs, arms and torso, as well as your flexibility, all go into determining the proper fit of a bicycle. The first step to getting the perfect bike fit is to figure out your own proportions. The most important measurement for matching your body to a bike frame size is your pubic bone height, which is a cycling-specific term for your inseam. To measure your pubic bone height, put on the shoes you intend to bike in and stand with your feet shoulder-width apart. Place a tape measure on the bony protrusion between your legs, just behind your genitals, and measure the distance to the base of your heel.
Bicycle Matchmaking
If you already have an 18-inch bicycle, you can compare your pubic bone measurement to the size chart for that specific brand and model. A bicycle size chart uses that inseam measurement to determine which size of that particular model is right for you. In very general terms, an 18-inch bicycle is best for someone just under six feet in height, but factors like inseam length and the differences between bike manufacturers can all influence the fit.
Dialing in Your Fit
If you're in the size range on your bike manufacturer's size chart, that 18-inch frame may still not be perfect. Seat height, seat angle and stem length can all affect the fit of a bike significantly. To set your seat height, get a friend to help you sit on the bike while it's not moving – leaning on a wall can help you stay balanced. Then, drop your pedal to the lowest position along its rotation, and raise or lower your seat until your knee is almost straight, with a very slight bend. Once you have your seat height set, you can adjust the tilt of the seat to a comfortable position and find a stem that matches how far you're comfortable reaching to your handlebars.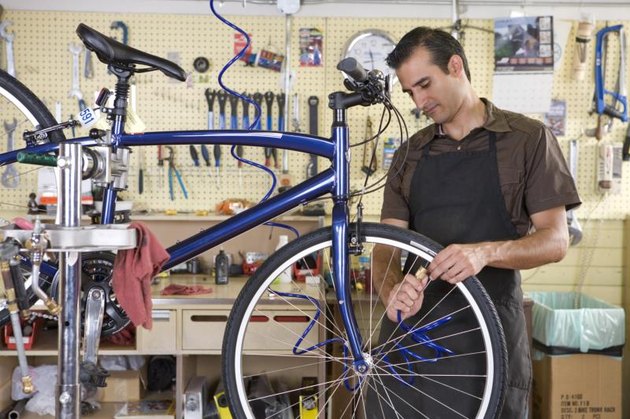 Seek Professional Help
Bike fitting can be very tricky, and an uncomfortable bike might leave you less motivated to get out and ride. If you're new to bicycles and are having trouble figuring out if your 18-inch frame is the right size for your proportions, stop in to your local bike shop and chat with an expert. Most bike shops have a professional bike fitter on staff, and all shops have lots of experience finding the right size bicycle for their customers. They'll be happy to help you get your bike adjusted to a perfect fit and can even help you choose a new bike if your current bike's frame size isn't quite right. Once you have a bike that fits like a glove, you'll be ready to tackle your next two-wheeled adventure.