Medical professionals and fitness experts advocate exercise as a way to maintain and build health. You reverse the benefits of exercise when you stop working out, and you never build up fitness and endurance if you never exercise at all. Starting a workout regimen is harder after a long period of inactivity, but you'll see immediate benefits to your body.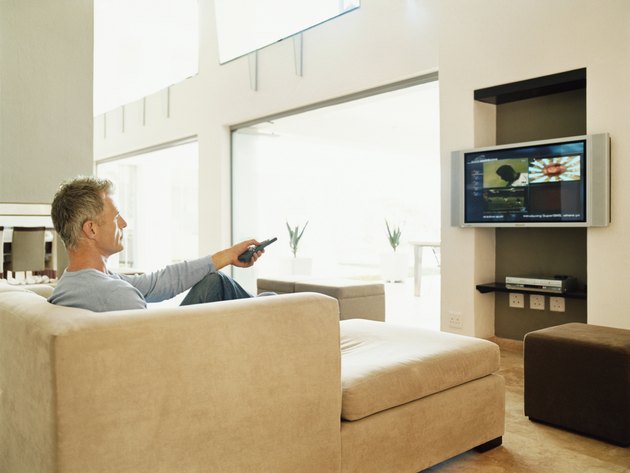 Weight and Blood Pressure
Some of the primary benefits of exercise include maintaining a healthy weight and regulating blood pressure. When you do not move, from either choice or due to injury, you burn fewer calories each day. An excess of just 500 calories per day translates into a weight gain of 1 pound per week or 4 pounds per month. When you gain weight, you have an increased risk for high blood pressure, heart disease and type 2 diabetes. Being overweight makes exercise harder because you stress your joints more when you run or jog.
Bones and Strength
Sitting around or lying around all day makes you weak. Unless you continuously use the major muscle groups in your body, they do not strengthen. If you are older, you lose the battle against muscle atrophy or wasting with every year that passes. Bones also lose density with age, and lack of weight-bearing exercise plays a role in osteoporosis, or brittle bones. Your body responds to the demands you put on it, and if you do not exercise, your muscles and bones weaken with time.
Exercise for Endurance
Just walking up a flight of stairs can make you short of breath if you are out of shape. Lack of exercise can lead to a lack of energy and endurance. The listlessness you feel further dissuades you from engaging in physical activity, and the vicious circle continues. Breaking a long period of inactivity is not easy, particularly if you are overweight or have a medical condition. Starting slow with just a few minutes of walking daily gets you moving safely.
Mental Health
Lack of exercise can lead to a diminished sense of well-being. Your body loses muscle tone and strength and your self-esteem can suffer as a result. Weight gain might lead to social isolation and bad eating habits. Vigorous aerobic exercise such as swimming or running stimulates your body to release endorphins. Endorphins are natural painkillers that help elevate your mood. Resuming physical activity benefits your mental health as well as your physical health.