Crab legs, sold flashed cooked and frozen in many grocery stores and specialty seafood shops, are prized for their delicate flesh and sweet taste. Thawed legs can be steamed, baked or microwaved, and the meat from crab legs is eaten plain or incorporated into a larger recipe. Crab legs contain little fat and calories and have a high nutritional value, although the sodium in crab legs may prevent those with heart or blood pressure problems from opting for this otherwise healthy seafood.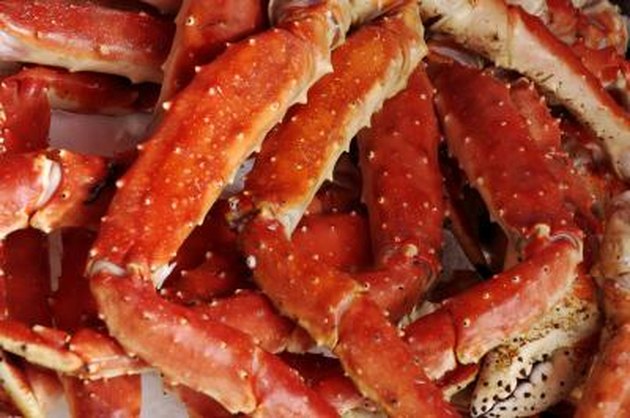 Calories and Protein
A serving of one crab leg – approximately 134 g or 4.7 oz. – contains 130 calories. Bring a serving of crab legs into an ideally sized, healthy meal of 300 to 600 calories pairing it with a steamed vegetable, such as kale or carrots, and a nutritious grain. One serving of crab legs provides you with 25.9 g protein, a significant portion of the 46 to 56 g protein recommended for daily consumption.
Fat and Fatty Acids
Crab leg meat contains little fat; it's only 2 g per serving of crab legs. The fat you eat provides benefits to your health. It protects your organs and helps your body absorb a variety of nutrients. Eating too much can contribute toward your risk of obesity. A diet with more than 20 to 35 percent of its calories from fat is not recommended. Crab legs contain several healthy fats in the form of fatty acids. A100 g serving of crab contains 0.4 g omega-3 fatty acids, a nutrient that improves cognitive function and heart health.
Vitamins
A serving of crab legs provides 18.5 percent of the vitamin B6, known as pyridoxine, your body requires daily. The vitamin B6 in crab legs is critical to the way your body uses proteins. Crab legs also serve as a good source of folate, a vitamin useful for helping to prevent birth defects; one serving contains 17 percent of the daily recommended intake. In addition, you will get smaller amounts of vitamins B12 and A.
Minerals
Eat a serving of crab legs, and you will satisfy nearly your entire daily intake requirements of selenium, an antioxidant that impacts your thyroid function. Crab legs also provide 20 to 27 percent of the magnesium you should consume each day. The magnesium in crab legs helps your body use calcium more effectively and regulates the level of potassium in your system. You also take in calcium, iron and zinc.
Sodium
Crab legs are naturally high in sodium, containing 1,436 mg sodium per serving. Limit the sodium in your diet to 1,500 mg to 2,300 mg per day to avoid elevated blood pressure, an increased risk of coronary heart disease and retaining water.