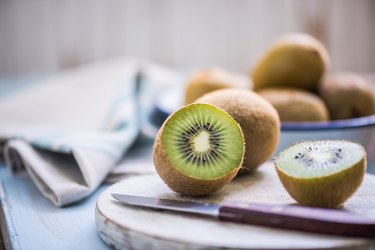 If you eat oranges for their vitamin C, bananas for their potassium and apples for their fiber, you may want to pick up some kiwifruit on your next shopping trip. Kiwifruit packs more nutrients per ounce than 27 other commonly consumed fruits, including oranges, bananas and apples. While green kiwifruit is nutritionally comparable to the gold variety, there are a few minor differences.
Tip
Nutritionally, green and gold kiwifruit aren't all that different and both make a healthy addition to your diet.
Vitamin C
Kiwifruit is higher in vitamin C than any other fruit. A 1-cup serving of sliced green kiwifruit delivers about 170 milligrams of vitamin C — or 278 percent of the recommended daily value based on a 2,000-calorie diet — according to the U.S. Department of Agriculture. Gold kiwis are an even better source, with close to 200 milligrams per cup of sliced fruit. Not only is vitamin C essential to healthy skin, teeth and bones, but it's also a powerful antioxidant.
Vitamin E
Kiwifruit is a good source of vitamin E, a fat-soluble nutrient that exhibits significant antioxidant activity and plays a role in immune system function. Because foods with significant amounts of vitamin E are generally higher in fat and calories, the low-fat, low-calorie kiwifruit is an unusual source. Whether you choose the green variety or the gold one, you'll get right around 13 percent of the recommended daily value for vitamin E from a cup of sliced kiwifruit.
Folate Levels
Healthy nerves, red blood cell production and normal growth and development all rely on folate, a B vitamin that's often referred to by the name given to the synthetic type — folic acid. Green kiwis are a good source of folate, with 45 micrograms — or 11 percent of the recommended daily value — per cup of sliced fruit. Gold kiwifruit provides about 63 micrograms of folate per serving, or almost 30 percent more than the green variety.
Potassium Provider
Green and gold kiwifruit are equally good sources of potassium, an electrolyte that plays a major role in nerve, muscle and heart function and helps protect against high blood pressure. While most Americans don't get the 4,700 milligrams of potassium a day recommended for healthy adults, including kiwifruit in your diet can help you boost your intake — you'll get an average of 575 milligrams of potassium from a cup of sliced kiwifruit, according to the USDA.
Dietary Fiber
A fiber-rich diet is associated with bowel regularity, normal cholesterol levels and a reduced risk of type-2 diabetes and heart disease. Although both kinds of kiwifruit provide significant amounts of fiber — especially when you consume the edible skins, too — green kiwis are a better source: a 1-cup serving of the sliced fruit supplies 5.4 grams of fiber, or 22 percent of the recommended daily value. Gold kiwis, which contain fewer seeds and have smoother skins, provide about 3.7 grams of fiber per serving.
Other Considerations
Green and gold kiwis provide about the same amount of energy — a 1-cup serving of either contains about 110 calories, according to the USDA. While both supply roughly the same amounts of protein, fat and carbohydrates, gold kiwifruit is slightly higher in sugar. Both varieties are excellent sources of lutein, an antioxidant carotenoid that supports eye health. The California Kiwifruit Commission notes that kiwis are higher in lutein than any other food, apart from yellow corn.