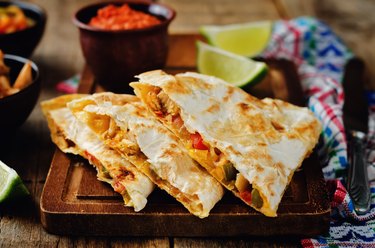 Lupe Tortilla was launched in 1983 by Stan and Audrey Holt out of a 40-year-old farmhouse in Houston, Texas. Fourteen years later, the Holts expanded to two more locations where patrons could enjoy their Tex-Mex dishes.
Today, Lupe Tortilla has 20 restaurants throughout Texas that seat 50 people and offer 22 delicious menu options, including nachos, quesadillas, burritos, fajitas and tacos.
For those counting calories and watching their weight, this is probably a destination you will want to avoid except on rare occasions. Though if you make some calculated menu choices, you may be able to fit this restaurant into diet.
Lupe Tortilla Nachos
Who doesn't love to start out a Tex-Mex meal with a large plate of nachos to share with the table? Lupe Tortilla offers Nachos Matamoros with beans, Jack cheese and jalapeños; or Nachos Compuestos with beans, carne molida (ground meat), cheddar cheese, guacamole, tomatoes and jalapeños.
On average, some calorie trackers report that a one-ounce serving of tortilla chips is about 140 calories with seven grams of fat, 17 to 19 grams of carbohydrates and two grams of protein; one cup of refried beans is 214 to 300 calories with four grams of fat, 32 to 50 grams of carbohydrates and 11 to 16 grams of protein; an ounce of Jack cheese is 120 calories with nine grams of fat, zero carbohydrates and seven grams of protein; and one ounce of jalapeños are five calories with zero fat, one gram of carbohydrates and zero protein.
Adding the ground meat in the Nachos Compuestos will put you back 171 to 218 calories for a three ounce portion, depending on the fat percentage, with eight to 13 grams of fat, zero carbohydrates and 24 grams of protein. Two tablespoons of guacamole adds another 35 to 60 calories, depending on the ingredients, with three to four grams of fat, two to three grams of carbohydrates and one gram of protein.
Altogether, those nachos could add up to over 830 calories for a single serving.
Lupe Tortilla Quesadilla
Another appetizer favorite are quesadillas. You can choose between a chicken fajita version at Lupe Tortilla, or a spinach and artichoke version, both with pico de gallo, melted Jack cheese, guacamole and sour cream.
With a quesadilla, the highest calories come from the tortilla and cheese. One burrito-sized tortilla has 190 calories with five grams of fat, 33 grams of carbohydrates and five grams of protein. We know the cheese has 120 calories from the nachos. So, without any of the other components, this appetizer adds up to 310 calories, assuming there is only one ounce of cheese used in the recipe.
Lupe Tortilla Burrito
A staple of the Lupe Tortilla menu is The Original "Big Sucker Burrito," which is packed with ground meat and beans, and topped with chili gravy and queso cheese. Tomatoes, onions and shredded lettuce come on the side.
Some calorie trackers report that a beef and bean burrito runs anywhere from 280 to 960 calories depending on the size, and not including any extras, like that chili gravy and queso. In addition, you can expect 10 to 42 grams of fat, 27 to 116 grams of carbohydrates and 10 to 30 grams of protein.
The chili gravy will add anywhere from 149 to 287 calories per cup to your dish, as well as another three to 14 grams of fat, 24 to 30 grams of carbohydrates and six to 14 grams of protein.
That queso is likely another 40 calories for every two tablespoons, with at least two more grams of fat, four grams of carbohydrates and one gram of protein.
Lupe Tortilla Fajitas
While fajitas tend to be one of the healthier options at any Mexican or Tex-Mex restaurant, if you consume every component of the fajita entrees from Lupe Tortilla, you won't be saving on calories.
Each fajita dish option comes with:
Guacamole at 45 to 60 calories for two tablespoons
Pico de gallo at 10 calories for two tablespoons
Grilled poblano pepper at two calories for one ounce
Cheddar cheese at 110 to 115 calories for one ounce
Sour cream at 46 to 70 calories for two tablespoons
Grilled onions at eight calories for two tablespoons
White rice at 169 to 242 calories for one cup
Refried beans at 214 to 300 calories for one cup
Hand-rolled flour tortillas at 81 to 190 calories for one, depending on size

If you're keeping track, the extras that come with Lupe Tortilla fajitas alone could set you back 997 calories if you ate each component.
The Fajitas Grandioso includes one pound of mixed beef (upwards of 291 calories for half a pound) and chicken (320 calories for half a pound), and six bacon wrapped pepper shrimp (210 calories). These ingredients add up to 821 calories for a meal total of 1,818 calories.
This meal does serve two to three people, so it's a good idea to share or bring home a good portion to eat at a later date.
Lupe Tortilla Taco
One of Lupe Tortilla's taco options is the Carnita Tacos, featuring two homemade corn tortillas with crispy pork tenderloin, lettuce, cilantro, onions and spicy serrano salsa.
Two corn tortillas are anywhere from 90 to 200 in calories, depending on the size, with one gram of fat, 16 to 21 grams of carbohydrates and two to four grams of protein. Pork tenderloin has 90 to 122 calories per three ounce serving, with one to three grams of fat, zero carbohydrates and 17 to 22 grams of protein.
This entree adds up to just over 320 calories, making it one of the lowest calorie options on the menu. If you're looking for a healthier option when it comes to Tex-Mex at Lupe Tortilla, the tacos are the way to go.