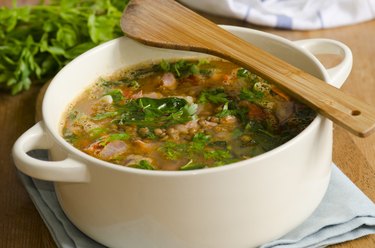 A high-protein diet can help reduce hunger so that you can control your weight more easily. Some high-protein options such as fatty meats and full-fat cheeses are unhealthy because of their high content of saturated fat, but many high-protein foods are low in fat and are nutritious. The U.S. Food and Drug Administration defines low-fat foods as having less than 3 grams of fat per serving.
Poultry and Seafood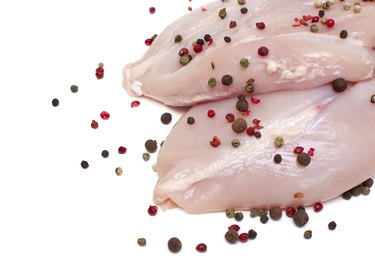 Skinless chicken and turkey breast, shellfish and most kinds of fish such as flounder, sole, cod and canned tuna, provide about 18 to 27 grams of protein per 3-ounce serving. In addition to protein, essential nutrients in poultry and seafood include iron, vitamin B-12 and zinc. For a high-protein, low-fat dinner, try grilled chicken breast simmered in tomato sauce with mushrooms, a shrimp stir fry with broccoli and low-sodium teriyaki sauce or cod baked with lime juice, pepper and garlic and served with Brussels sprouts.
Fat-Free Dairy Products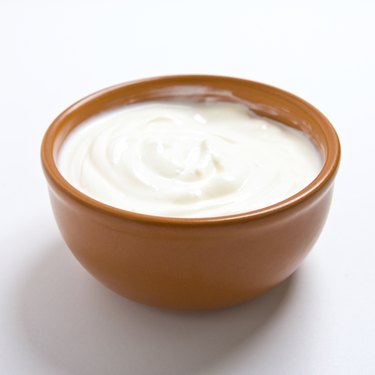 Full-fat dairy products contain unhealthy saturated fat, but fat-free milk, cheese and yogurt are good sources of protein that are lower-calorie alternatives. They are top sources of calcium, which is a mineral your body needs for building and maintaining strong bones. Fat-free cottage cheese is lower in calcium, but higher in protein per serving. Rolled cheese and ham slices, cottage cheese with tomatoes and Greek yogurt with cucumbers are ideas for high-protein, low-fat snacks.
Egg Whites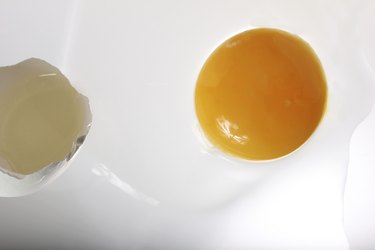 Egg whites and most liquid egg substitutes are high-protein, fat-free and cholesterol-free. A single, large egg white provides 3.6 grams of protein and only 17 calories. Eating the yolk in addition to the white adds 55 calories and 5 grams of fat. Hard-boiled eggs are portable snacks and good toppings for green salads. You can make a high-protein, low-fat egg salad with chopped hard-boiled egg whites, fat-free Greek yogurt, pepper, onion powder and dill. Scrambled egg whites with spinach is a nutritious breakfast idea.
Beans, Peas and Lentils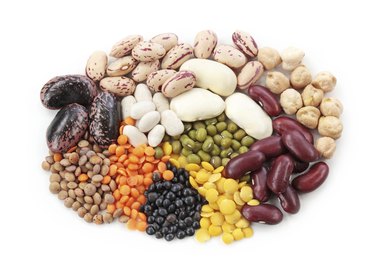 Legumes, or beans, split peas and lentils are low-fat sources of protein and of other nutrients, such as dietary fiber and potassium. The University of Michigan explains that legumes do not provide all of the amino acids, or protein components that your body needs to get from the diet, but you can combine legumes with grains to consume the amino acids you need. Suggestions include hummus, or garbanzo bean dip, with whole-wheat pita, split-pea soup with barley and black beans with brown rice.