Lamb refers to the meat of a sheep younger than one year old. Meat from older sheep is called hogget, and from even older sheep is called mutton. Lamb is more tender than hogget or mutton. There are various cuts of lamb, including lamb chops — which may come in the form of rib chops, loin chops or shoulder chops — and whole leg of lamb. Kosher and Halal varieties are also available.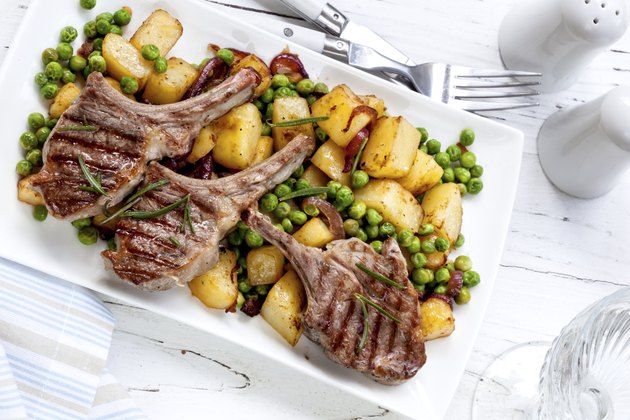 Protein and Vitamins
An excellent source of protein, 4 oz. of lamb contains 27.5 g of protein, or 55 percent the recommended daily intake for an adult, according to LIVESTRONG.com's MyPlate. Eating 4 oz. of lamb also delivers 48 percent, 37 percent and 14 percent of the daily value for vitamin B12, niacin and riboflavin, respectively. Vitamin B12 is essential for red blood cell production, nerve function and in the metabolism of homocysteine. Niacin, or vitamin B3, helps the body release energy from food and is important for nervous system function. Riboflavin, or vitamin B2, also helps the body release energy from foods and plays a role in good vision.
Minerals and Trace Elements
Lamb is also a good source of some minerals and trace elements, especially zinc. In fact, 4 oz. of lamb contains 33 percent of the daily value for this mineral. Zinc supports the immune system, aids wound healing and maintains healthy testosterone levels. Lamb is also a good source of iron and copper, with 4 oz. containing 12 percent and 7 percent of the recommended daily intakes, respectively. Iron is needed for red blood cell production and its deficiency causes anemia, which is characterized by fatigue and poor concentration. Copper is a trace element that is important for iron metabolism and participates in red blood cell synthesis.
Saturated Fat and Calories
Unfortunately, lamb is rich in saturated fat and calories, with 4 oz. containing 331 calories and almost 10 g of saturated fat. This makes up almost two-thirds of your daily saturated fat allowance in a 2,000-calorie diet, based on guidelines reported by Colorado State University. The "Manual of Dietetic Practice" warns that saturated fat intake is a risk factor for heart disease and increases blood cholesterol levels. Because it is also high in calories, frequent consumption of lamb can lead to weight gain.
Purines
Lamb is also a source of purines. Your body converts purines into uric acid and, if you can't properly remove the uric acid from your body, it will accumulate and increase your risk of kidney stones. As a result, individuals susceptible to gout and kidney stones should avoid high-purine foods, including lamb. If you have these conditions, you should discuss lamb intake with your doctor.