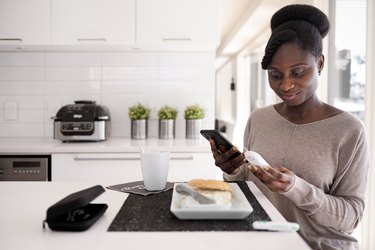 When you have diabetes, you know how important it is to monitor blood sugar levels. Besides daily glucose meter readings, you may want to find out your average blood sugar number and convert it into an A1C percentage. Here's how to do that A1C conversion.
The Importance of A1C
One way to monitor your blood sugar is to extract a little blood with a glucometer device. This gives you a blood sugar reading at that point in time. Your doctor may ask you to do this once a day or several times a day.
Another way to monitor your blood sugar is by wearing a continuous glucose monitoring device. This approach has become more popular in recent years, says Carla Cox, PhD, RD, a registered dietitian and certified diabetes educator in Missoula, Montana, and spokesperson for the American Association of Diabetes Educators.
A third way is to obtain your hemoglobin A1C number regularly when you go for lab work. The A1C, which is given as a percentage, indicates your average blood sugar over a two- to three-month period. This number can help show you and your diabetes team if your current diabetes treatment plan is effective, according to the American Diabetes Association (ADA). Most people with diabetes will get their A1C measured at least twice a year.
Sometimes, it's helpful to convert a series of blood glucose readings into an A1C number. You may do this to further your own understanding of your blood sugar numbers or to share that number with your diabetes care team.
How to Do an A1C Conversion
Here's how to convert your blood sugar readings into an A1C percentage, according to the ADA and diabetes educators:
Step 1. You'll want to have a substantial number of blood glucose readings ready to analyze. To truly find out your average blood sugar, you should measure it at different times of the day, Cox recommends. For instance, if you always measure your blood sugar in the morning before you eat, you may not know that your blood sugar is going too high or low at other times in the day. Talk to your doctor about how often to measure your blood sugar each day and when.
Step 2. Add up all the readings you're using for the conversion. Note the resulting number.
Step 3. Divide the number from Step 2 by the total number of readings you took to reach that number. For instance, if your Step 2 total is 18,000 and you had 100 readings, your math is: 18,000 divided by 100 = 180. This is your average glucose level for the 100 readings.
Step 4. Add 46.7 to the average blood glucose reading from Step 3. If your average reading was 180, your math is: 180 + 46.7 = 226.7.
Step 5. Divide your answer from Step 4 by 28.7. Using the same example as above, your math is: 226.7 divided by 28.7 = 7.89. This means you have an average hemoglobin A1C of 7.89 percent.
You can also use the ADA's online conversion calculator to do the math for you.
Understanding Your A1C Conversion Result
The ADA recommends that your hemoglobin A1C be below 6.5 percent. However, there may be exceptions to this. For instance, some people have other medical conditions that cause their hemoglobin A1C readings to go above 6.5 percent regularly. Others may have anemia or another health condition that makes hemoglobin A1C readings less useful, according to Cox. Talk to your doctor about the right target number for you.
In addition to understanding a higher A1C number, it's also important to monitor low A1C trends. For example, if your A1C has consistently been about 8 percent and it's now closer to 7 percent, this could be due to better diabetes care. However, it also could indicate you are having blood sugar readings that are too low. This is something you'll want to problem-solve with your care team, Cox says.
As always, knowing these numbers is not a replacement for medical care. Talk to your doctor about any results you don't understand, and share your results with everyone on your diabetes care team.
Is this an emergency? If you are experiencing serious medical symptoms, please see the National Library of Medicine's list of signs you need emergency medical attention or call 911.