Hyaluronic acid is a long, unbranched chain of simple sugar molecules. The body uses it to provide connective tissue such as cartilage, and it's also used to repair the skin. Ultraviolet radiation from the sun can cause skin cells to reduce their production of hyaluronic acid. You can use specific foods and supplements to increase the amount of hyaluronic acid in your body.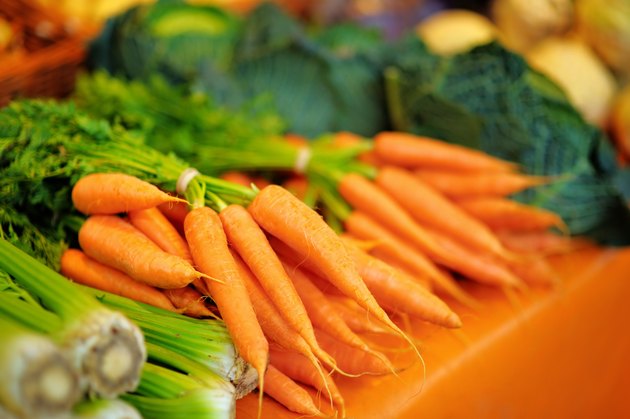 Step 1
Eat foods high in hyaluronic acid, especially potatoes and other root vegetables such as carrots and sweet potatoes. Also consume leafy green vegetables such as kale and spinach, You can also find high concentrations of hyaluronic acid in Asian vegetables such as imoji, konyaku and satoimo.
Step 2
Eat vegetables raw. Hyaluronic acid is sensitive to heat and will be destroyed by cooking. You can eat carrots, kale and spinach leaves as part of a salad or by themselves as a snack.
Step 3
Drink plenty of water. Hyaluronic acid is more effective when it has an abundant amount of water with which to bind. You may increase the effectiveness of hyaluronic acid by drinking at least eight full glasses of water per day.
Step 4
Take oral supplements of hyaluronic acid. You can commonly find capsules of hyaluronic acid in grocery stores and health food stores. The Food and Drug Administration hasn't established a minimum daily requirement for hyaluronic acid, but a common recommended dosage is 200 milligrams twice a day.
Step 5
Use topical supplements of hyaluronic acid. These are available in creams and gels from health stores and spas. Topical forms of hyaluronic acid typically contain a 2.5 percent concentration of hyaluronic acid. Rub this preparation of hyaluronic acid onto rough parts of your skin to make them smoother and suppler.
Things You'll Need
Vegetables

Oral hyaluronic acid supplements

Topical hyaluronic acid supplements