Not everyone has enough spare time to devote to walking 8 miles per day. If your schedule affords you this time, however, take advantage of it. This simple workout can play an integral role in your quest to lose weight, but walking alone won't necessarily melt the pounds away. Successful weight loss also requires an attentive attitude toward your diet.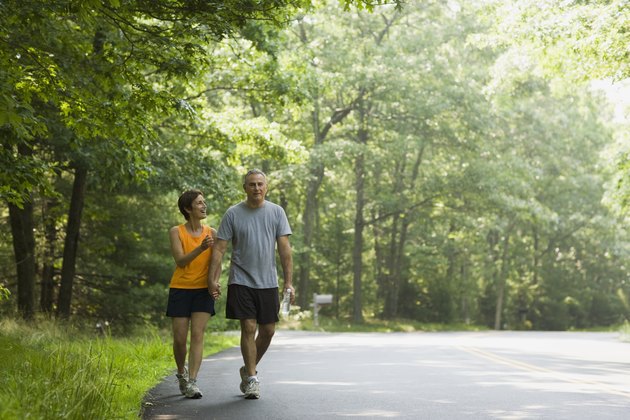 One Step at a Time
It's necessary to exercise regularly if you're determined to lose weight, and walking 8 miles a day can help you comfortably surpass the U.S. Department of Health and Human Services' weekly exercise guidelines. The organization notes that to lose weight, you should exercise up to 60 minutes per day, five days a week. Walking is an ideal way to reach this exercise goal because of its simplicity and low impact to your joints.
Walk Off the Fat
Walking for 8 miles, regardless of your pace, yields a significant calorie burn. If you maintain a pace of 4 mph during the walk, traveling 8 miles will take you two hours. During a two-hour walk at 4 mph, people who weigh 150 and 200 pounds burn 801 and 1,068 calories, respectively, according to ExRx.net. Burning this number of calories in your daily walk increases your chance of putting your body in a caloric deficit, which leads to weight loss.