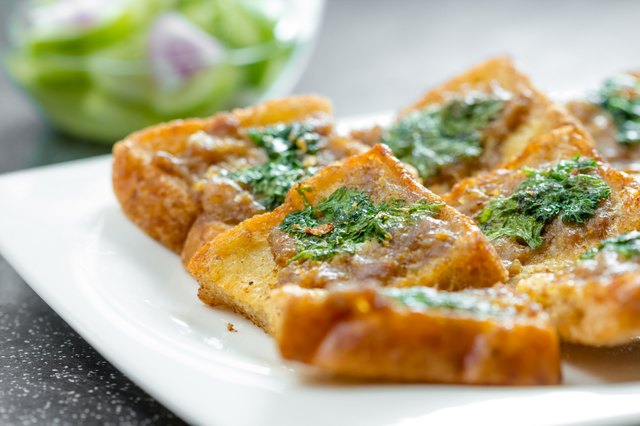 Thai food is a popular ethnic cuisine that has five fundamental flavors including spicy, salty, sweet, sour and bitter. It combines herbs and spices that have been rumored to have healing properties but it can be high in fat, calories and sodium. Popular menu choices include soups, curries and stir-fried noodles known as Pad Thai.
Pad Thai
This meal is translated as Thai fried noodles and is possibly the most well-known Thai dish. It is traditionally made with stir-fried noodles, eggs, fish sauce, red chili peppers and bean sprouts. It is often served with shrimp or tofu and peanuts. According to an authentic recipe from AllRecipes.com, a traditional Pad Thai has 524 calories, 20 g fat, nearly 60 total grams of carbohydrate and 27 g protein. "Cooking Light" magazine says the Pad Thai you order from your local restaurant is likely to have about 600 calories.
Tom Yam Goong
This spicy shrimp soup mixes all five Thai flavors together to form a sour spicy flavor. Authentic herbs including galangal, lemongrass, kaffier lime leaves, shallots and Thai red chili peppers are used. Two versions are available, one with coconut milk and one without coconut milk. Choose the version made without coconut milk to save calories and fat. An authentic recipe from AllRecipes.com provides 108 calories, 1.6 g fat, 15.4 total grams of carbohydrate and 9.5 g of protein. However Thai soup is high in sodium. Just one serving of Tom Yam Goong provides nearly 3,000 mg.
Spring Rolls
Por Pia Tord is the Thai version of the popular appetizer made with rice paper and steamed filling. A recipe by "USA Weekend" columnist Jean Carper uses shrimp, shredded lettuce, cilantro, cucumber and carrot for the filling. It is served with a dipping sauce made of light soy sauce, rice vinegar, mirin and ginger. Each roll has 59 calories, less than 1 g fat, about 9 g carbohydrate and 3.5 g protein. Watch out for deep-fried versions on restaurant menus that will add significantly more fat and calories.
Curry
The first recorded recipe for Thai curry dates back to 1889 and combines chili peppers, onion, lemongrass, coriander, cardamom, cassia, coriander seeds, star anise, cumin, pepper and shrimp paste. A popular restaurant version, Kang Keaw Wan Kai, is a sweet green chicken curry and is made with fish sauce, green chilis and coconut milk. A recipe available from AllRecipes.com has 472 calories, 40 g fat, 14.6 g carbohydrate and 27 g protein. It is traditionally served with jasmine rice. This side dish made with jasmine, rice, coconut milk, ginger, soy sauce and spices can add an additional 437 calories, 18 g fat, 62 g carbs and 7 g protein.