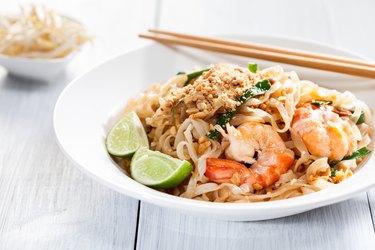 Thai food is known for its bold, spicy flavors. Often, dishes combine sharply different elements — for instance, a dish may incorporate both a spicy curry paste and creamy coconut milk.
Your local Thai restaurant or take-out joint will undoubtedly have pad Thai, a dish made with peanuts, your choice of protein and stir-fried rice noodles. Other popular dishes include soups and curries. You'll also find packaged versions of many Thai dishes at your local grocery store.
Given the variety of dishes available, the calories will vary considerably from one Thai food dish to another.
Soup can often be a lower-calorie option: a serving of one brand of Tom Yum soup from a can, for instance, has 31 calories, according to the USDA. But that's not always the case — a one-cup serving of Thai coconut shrimp soup has 219 calories, per the USDA.
The calories can add up in dishes that incorporate high-calorie coconut milk. A half-cup portion of massaman curry has 276 calories, according to the USDA.
And, of course, the calories are likely to be higher for restaurant versions of any Thai dish (as opposed to frozen or canned ones found in the supermarket).
If you're looking to cut down on calories at a Thai restaurant, opt for veggie-forward dishes that are grilled, stir-fried or steamed.
Nutritional Facts for Popular Thai Food Dishes
Here, a look at some of the more common dishes you may see on a Thai restaurant menu, along with details on their nutritional makeup.
This possibly the most well-known Thai dish. It is traditionally made with stir-fried rice stick noodles, eggs, fish sauce and bean sprouts. Pad Thai is often served with shrimp, chicken or tofu and peanuts.
According to the USDA, 1 cup of meatless pad Thai provides:
328 calories
12 grams of protein
18 grams of fat
33 grams of carbohydrates
3 grams of fiber
9.5 grams of sugar
At Magic Wok, a dish of pad Thai (which is likely larger than a cup-sized serving) has between 630 and 680 calories, depending on the protein that's included — diners can choose between shrimp, tofu and chicken.
Tom Yam Goong (Thai Hot and Sour Soup)
This spicy shrimp soup gets its flavor from classic Thai ingredients such as fish sauce, lemongrass, kaffir lime leaves, galangal and chili paste.
There are versions of this soup that incorporate coconut milk, as well as clear versions that leave off that ingredient. Coconut milk is a high-calorie ingredient that will up the overall calories in the soup.
In one canned version of tom yum soup, you'll get 31 calories, just under a gram of fat, 5 grams of carbohydrates and no protein in a serving, according to the USDA.
Por pai tord are a fried version of spring rolls, prepared with rice paper or glass noodles and a steamed filling. These can be vegetarian, or filled with shrimp or other proteins.
Get an order of two vegetarian spring rolls from Asian food chain P.F. Chang's, and you'll take in 290 calories, 19 grams of fat, 53 carbohydrates and 4 grams of protein.
It's also common to see Thai spring rolls that aren't fried. This fresh version is lower in calories: One fat-free recipe for fresh spring rolls has 58 calories, 13 grams of carbohydrates and 1 protein per serving.
Thai cuisine has a number of types of curry, which is typically served with rice or over noodles.
Red and green curry is spicy, while yellow curry (which gets its color from turmeric), panang curry and massaman curry are milder options, according to Thai Ginger, a Thai restaurant with several locations in Washington state.
The nutritional content of curry will vary from one dish to another.
Curry dishes often incorporate coconut milk. One cup of this luscious liquid contains 30 calories and 3.2 grams of fat, according to the USDA.
A serving of red curry with vegetables from Texas grocery chain HEB contains 420 calories, 12 grams of fat, 63 grams of carbohydrates and 14 grams of protein per serving, according to the USDA. A serving of green curry from Amy's Kitchen has 329 calories, 15 grams of fat, 41 grams of carbohydrates and 8 grams or protein, according to the USDA.
Restaurant versions of these dishes are likely to be higher in calories and fat.