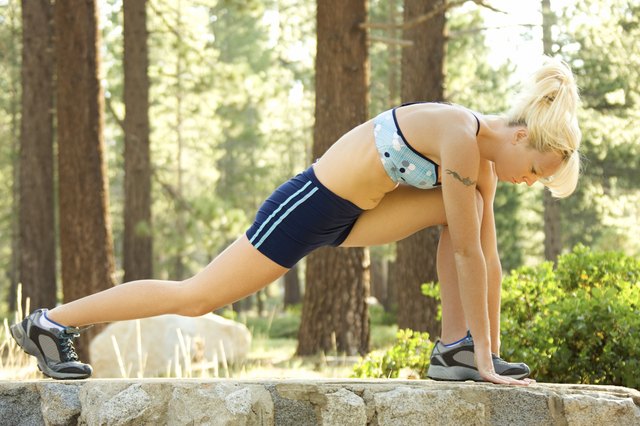 Some types of stretching, including movement-based dynamic stretching, can help warm up your body and prepare for physical activity. You might experience a feeling of warmth or tightness while stretching, but sharp pain indicates that something isn't right. Your body's natural flexibility depends on a number of factors, and pushing past your limits in an unsafe manner can result in injury. Back off when you feel sharp pain to keep your body safe.
What Limits Your Stretch
Your flexibility partly depends on age, according to IDEA Fit. As you get older, flexibility decreases. Women might also be more flexible than men, enjoying a greater range of motion. People who are more physically active also tend to be more flexible, because they're regularly using their muscles. The particular joint structure of your body and the design of your connective tissues also impact your flexibility level. If you're experiencing sharp pain while stretching, your body is signaling that you're stretching too far.
Pain and Discomfort
Intense pain can signify serious injury, especially for the joints, ligaments and tendons, according to the Massachusetts Institute of Technology. Pain sometimes means that you've created microscopic tears in your body's tissues. If you experience pain while stretching, it could also mean that lactic acids and other waste products have accumulated in your muscles. Stretching can release these products, making you experience pain or discomfort. Over-stretching can also create a muscle cramp, resulting in pain.
Appropriate Stretching Techniques
Avoid sharp pain while you're stretching by observing appropriate stretching techniques. IDEA Fit recommends warming up the muscles before beginning a stretching routine; for example, you might walk or perform other dynamic movements to get the body warmed before beginning to stretch deeply. Focus on one muscle group at a time, limiting movement in other parts of your body. Stretch until you reach your endpoint, which is the limit where you're not able to stretch any further but before you experience pain. If you feel pain, back away from the stretch and check whether you have performed it correctly before attempting again with less intensity.
Sharp Pain: The Aftermath
If you've strained your muscles by over-stretching, begin to heal by applying heat and taking over-the-counter anti-inflammatory medicines, according to Medline Plus. Stretch lightly, if that's comfortable, to bring blood to the injured area. You can also engage in light exercise for the same effect. If pain and discomfort persists, seek out the attention of a medical professional. Talk with a doctor if the pain is strong enough that you can't move your arms, legs or joints.