Headaches can occur with dietary changes, especially if you begin to lose weight by cutting calories -- or carbs. However, safe weight loss shouldn't result in unpleasant side effects, such as headaches. If you do experience headaches when following a low-calorie diet, make sure you're drinking plenty of water and losing weight at a safe pace.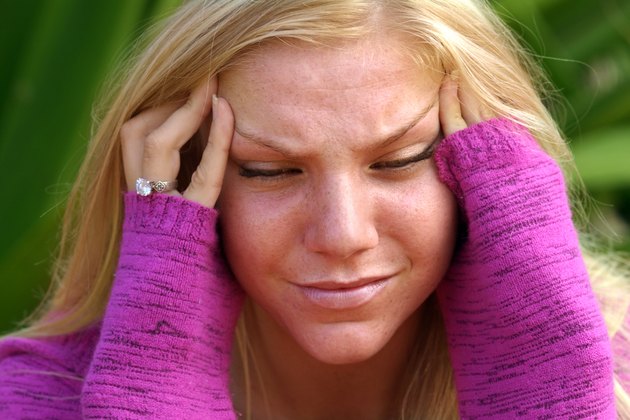 Low Blood Sugar and Headaches
Letting your blood sugar drop too low when following low-calorie diets -- often containing 1,000 to 1,200 calories daily for women and 1,200 to 1,600 calories a day for men -- can lead to headaches. Low blood sugar, which happens when too little glucose is in your bloodstream, can occur if you skip meals to reach your weight-loss calorie allotment. To help prevent headaches during weight loss, eat regular meals and snacks every few hours or so.
Low-Carb Dieting and Headaches
Low-calorie diets leading to rapid weight loss can cause headaches -- especially if your carbohydrate intake is too low. A study published in 2011 in the "Nutrition Journal" reports that symptoms of ketosis, which occurs when there is a buildup of metabolic byproducts called ketones in the body after breaking down fat instead of carbs as fuel -- include headaches, bad breath, weakness and constipation. To reduce your chance of getting a headache during weight loss, eat at least 130 grams of carbohydrates -- which is the recommended dietary allowance, or RDA -- daily and avoid losing more than 2 pounds per week.
Importance of Hydration
Since dehydration is a contributor to headaches, drink plenty of water when following a low-calorie, weight-loss diet -- especially if you exercise regularly. Drinking water, especially before meals, also helps fill you up and makes it easier to stick with a lower daily calorie allotment. The Institute of Medicine reports that adequate intake levels are about 16 cups of water daily for men and 11 cups a day for women. These amounts include water in other beverages and foods. The University of Rochester Medical Center reports that about 80 percent of your water intake comes from water and beverages, and 20 percent generally comes from food.
Chronic Headache Concerns
Just because you're getting headaches doesn't mean your diet is the culprit. Berkeley University Health Services reports that headaches may also be a sign of muscle tightening in your neck triggered by fatigue, depression or emotional stress. However, if you're experiencing chronic headaches, you're not losing more than 2 pounds weekly and you're drinking plenty of water, it may be time to talk with your doctor. Although headaches can occur while dieting, chronic headaches that don't subside may be a sign of a more serious medical condition.