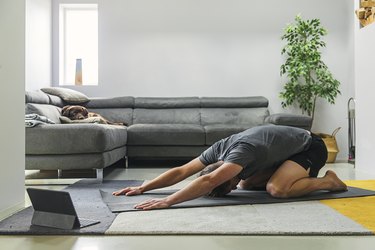 When you have Crohn's or ulcerative colitis — two conditions categorized as inflammatory bowel disease or IBD — exercise can be hugely beneficial. Not only does it decrease stress that could otherwise exacerbate symptoms, it may also help improve digestion, says Rudolph Bedford, MD, a gastroenterologist at Providence Saint John's Health Center in Santa Monica, California.
"Unequivocally, exercise is a plus when you have these conditions, and it has a ripple effect in other ways that improve health overall," he says. "That said, I know it can be challenging to be active when you're experiencing a flare-up, so that's when you need to choose your exercise wisely and opt for more gentle activities that don't temporarily increase inflammation the way high-intensity workouts might."
UK-based movement and mobility coach Luke Jones, CPT, knows that all too well — not only is he a personal trainer, but he also lives with Crohn's disease. For him, flare-ups involve extreme fatigue and pain, but he's found that doing a gentle mobility flow can help him stay active, feel less stressed and make his symptoms fade faster.
Here, Jones shares his go-to, 20-minute routine with simple stretches and deep breathing for easing Crohn's and colitis symptoms.
Tip
It's always a good idea to talk to your doctor before starting any new workout routine, especially if you're managing a chronic condition.
Move 1: Long Exhale Nasal Breathing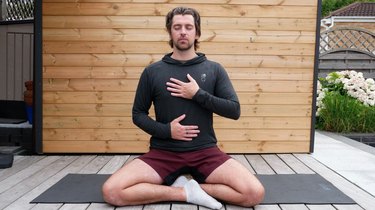 Sit or kneel in a comfortable position with your torso upright.
Relax your shoulders back and down and close your eyes.
Place your right palm on your abdomen, and your left palm on your chest.
Inhale through your nose for a count of four, expanding the belly and ribcage with your breath. Ideally, your right hand is the only body part moving. This might take some practice, so don't worry if you don't get it the first time.
After a long inhale, exhale through the nose for a count of six.
Repeat this pattern for four minutes or longer if you prefer.
Tip
If you're suffering from a severe flare-up, you might just stick to the breathing drill today, and that's OK. But if you continue with the routine, maintain this nasal breathing throughout the workout, focusing on extending the exhale to encourage a rest-and-digest state. Make sure to avoid any movement that exacerbates your symptoms.
Move 2: Upper Trap and Neck Release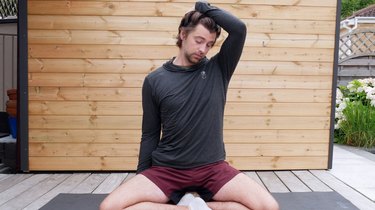 From a comfortable seated or kneeling position, roll your head down toward your left shoulder.
Think about keeping your neck long and your right shoulder blade back and down, as it will naturally want to shrug up.
Gently place your left hand on top of your head if you want to deepen the stretch, but don't force it.
Hold for one to two minutes, and repeat on the right side.
Move 3: Thoracic Spine and Shoulder Flow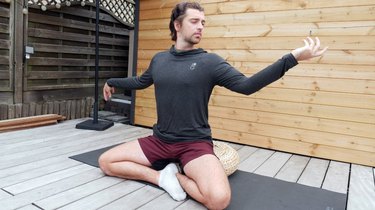 Start in an upright seated or kneeling position and extend your arms out to your sides with a slight bend in the elbows, palms facing the floor.
Turn your head toward your left side, and externally rotate your left arm (palm forward and up) while internally rotating your right arm (palm down and back).
Hold this position for one breath before reversing the motion the opposite way.
Slowly alternate sides for a total of two to three minutes, resting whenever you need.
Move 4: Lunge and Twist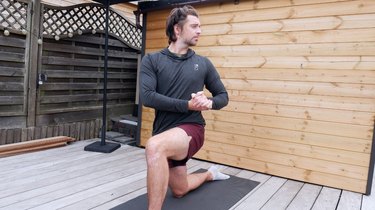 Get into a lunge position with your left leg forward and your right leg behind you on the floor, forming 90-degree angles.
Lightly engaging your right glute and core, gently shift your hips forward slightly to stretch the right hip flexor.
From this position, clasp your hands together, and if it feels comfortable to do so, experiment with rotating your torso toward the left side.
Think about placing your left elbow into your back pocket, so there's a slight lateral bend in the torso and rotation in the mid-back, wringing out any tension.
Return your torso back to the starting position. Continue to rotate for one to two minutes, then repeat on the opposite side.
Move 5: Hip Box Internal and External Rotation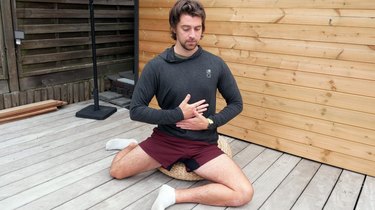 Begin in an upright seated position supported by blocks or pillows if needed.
Allow your left leg to externally rotate (knee out), and your right leg to internally rotate (knee in). You may need to use pillows under your knees for extra support.
If it feels comfortable to do so, you can lean over either leg to intensify the stretch, making sure to stay long through the torso (as opposed to collapsing down over the belly).
Hold this stretch for as long as you'd like up to three minutes, then switch your leg positions and repeat on the opposite side.
Move 6: Wide-Legged Child's Pose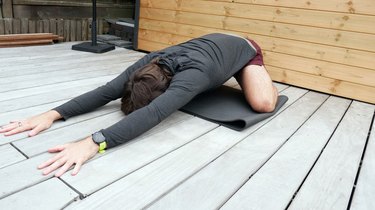 Get into a kneeling position with your knees on the floor slightly wider than hip-width apart.
Send your hips back and extend your arms overhead as you rest your forehead on the mat.
Think about elongating the spine and reaching out through your fingertips.
Relax here, practicing deep, nasal inhales and long, slow nasal exhales.