The thyroid gland, located in the front of your neck, produces hormones that aid your metabolism. If yours is overactive, a condition known as hyperthyroidism, your metabolism runs too fast, causing symptoms such as a rapid heartbeat, anxiety, shortness of breath and insomnia. In addition to any necessary medical treatment, a healthy diet, limited in certain foods, can help minimize your symptoms.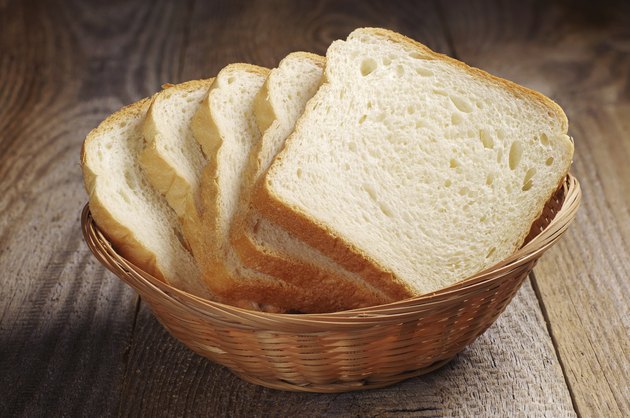 Food Allergens
While foods affect people with hyperthyroidism differently, consuming foods your body is allergic to can worsen your symptoms. If you suspect that a food allergy is in play, the University of Maryland Medical Center recommends eliminating potential allergens, such as dairy products, soy, corn and chemical food additives, from your diet. You can also seek medical testing or engage in a guided elimination diet with your doctor or dietitian. If you test positive, avoid all foods containing the allergen.
Refined Grains
When they're processed to create refined grains, grains lose valuable nutrients, such as B-vitamins, which play an important role in managing hyperthyroidism. As high-glycemic foods, refined grains can cause spikes and drops in your blood sugar levels, triggering or worsening mood swings. To avoid these effects and reap plentiful nutrients in the process, replace refined grains, such as white flour and instant rice, in your diet, with whole grains, such as quinoa, oats and wild rice. Avoid breads, pastas, cereals and other packaged starches that list a refined grain, such as enriched or wheat flour, as the main ingredient.
Hydrogenated Vegetable Oil
Partially hydrogenated oil is another name for artificial trans fats, which can damage your cardiovascular health, increasing your risk for type-2 diabetes and heart disease. Avoiding or eliminating trans fats can enhance your heart health and potentially reduce hyperthyroidism symptoms. Common sources of the unhealthy fats include commercially made cookies, crackers, cakes, french fries, doughnuts, margarine and any food that lists partially hydrogenated oil as an ingredient. Incorporate healthy fat sources, such as nuts, seeds, olive oil, avocados and oily fish, into your diet instead.
Caffeinated Foods and Drinks
As a stimulant, caffeine can worsen overactive thyroid symptoms, such as anxiety, insomnia and heart palpitations -- particularly when consumed in large quantities. The University of Maryland Medical Center recommends avoiding caffeine before talking to your doctor because it can also interact with your medication. Common sources include energy drinks, coffee, black teas, chocolate and coffee-flavored ice cream and candies. Swap out black tea and coffee in your diet with herbal teas. Instead of sugary sodas, have sparkling or flat water with lemon. In place of coffee-flavored sweets, have a modest portion of dried fruit.
Sugary Sweets
While modest amounts of sweets tend to be harmless, eating frequent or large amounts of added sugar can offset your blood sugar levels and worsen hyperthyroidism symptoms. To satisfy your sweet tooth, have fresh fruit, smoothies or baked sweet potatoes instead of sugary fare, such as candies, sweetened drinks, frosted desserts and pancake syrup.