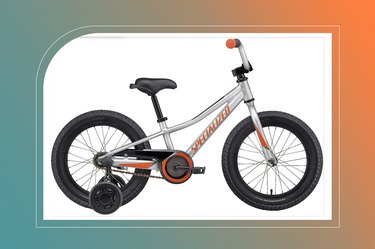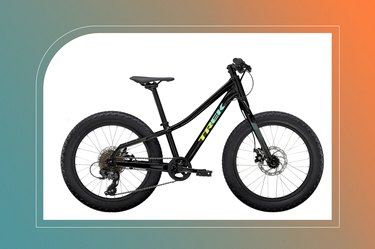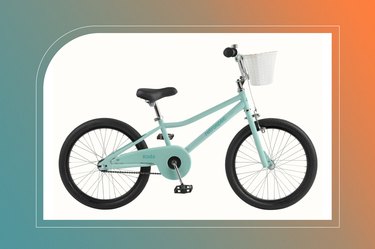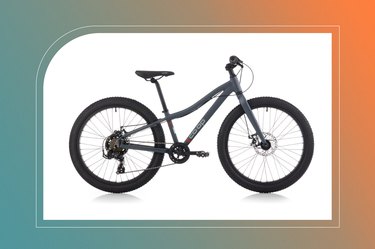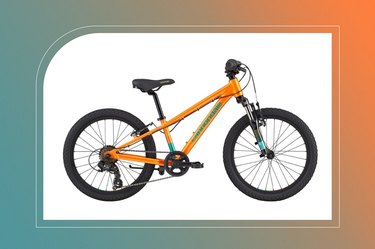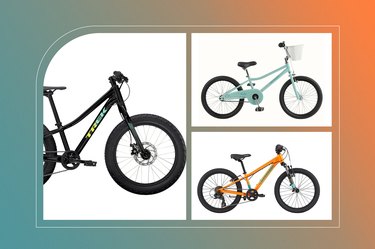 Finding the perfect kids' bike is no walk in the park. Even if you've decided on the color and model, figuring out what size bike is best for a 6-year-old adds another challenge.
Most parents can agree that young kids grow quick. And while you may buy your children's shirts a little over-sized — they'll grow into it, right? — you don't want to apply the same logic to their bike, according to Absolute Endurance cycling coach, Garret Seacat, CSCS. Ask your kid to ride bike that's too big and they can wind up frustrated and lacking confidence as they learn to ride.
"The right size bike should make your kid feel comfortable and will make it easy for them to control the bike," he says.
That's why it's so important to check the sizing chart on the bike you're buying. While bike sizes aren't universal (different companies have slightly different measurements), they are pretty consistent.
Most children's bicycles sizes are measured by wheel diameter, with each size corresponding to a different rider height and leg length, or inseam. Use the table below to find an approximate size for your kid's bike. (You'll notice that wheel sizes match your child's inseam pretty closely.)
Kids' Bike Sizes
| | 16-inch wheel | 20-inch wheel | 24-inch wheel |
| --- | --- | --- | --- |
| ​Height ​ | 41 to 48 inches | 45 to 54 inches | 49 to 59 inches |
| ​Inseam​ | 16 to 22 inches | 19 to 25 inches | 23 to 28 inches |
The most popular bike sizes for young kids are 16- 20- and 24-inch, and there's overlap in ideal rider height between each of them. (Additionally, 14-, 18-inch and 22-inch options exist, but they are much less common.)
Read on to browse five bikes (listed from the smallest size to the largest) that might just be the perfect fit for your 6-year-old rider.
​Size:​ 16-inch wheel diameter
​Feature:​ removable training wheels
The Riprock makes the perfect first bike for a 6-year-old kid. With training wheels already installed and a lifetime warranty, this bike is meant for children learning to ride, according to Seacat.
Plus, this bike's frame is super light. So, in case the bike tips over while your kid is learning, lifting and moving the bicycle is easy.
​Size:​ 20-inch wheel diameter
​Feature:​ extra thick tires for road or trail
Is your kid ready to ditch the training wheels? The Trek Roscoe hybrid bike is an ideal next step. Seacat especially loves the thicker tires because they offer a little more stability and balance.
The Roscoe also has a low middle frame, making stepping on and off the bike easy for children who are short.
​Size:​ 20-inch wheel diameter
​Feature:​ dual braking system on the handles and pedals
The Koda bike is a super safe option. This one has a dual braking system, so young kids can brake using the handlebars or pedals. Plus, the sturdy frame helps prevent falls by keeping the bike balanced.
Although this bicycle has an adjustable seat and handlebars to grow with your kid, you should still get a larger bike once they are tall enough, according to Seacat.
4. Cannondale Trail 20 Kids' Bike
​Size:​ 20-inch wheel diameter
​Feature:​ low gear ranges for easy pedaling
When you're ready to take your kid on some hilly rides, the Cannondale trail bike is a fitting companion. It's lightweight with big tires that offer plenty of traction.
Seacat also loves the lightweight aluminum build because it's easy to pedal uphill.
5. REI Co-op Cycles REV 24 Plus Kids' Bike
​Size:​ 24-inch wheel diameter
​Feature:​ free adjustments for 1 year
If your child is on the taller side, this pick is ideal, according to Seacat. REI also offers free adjustments for a full year after your purchase, just in case your kid happens to go through a growth spurt.
​Buy it:​ REI.com; ​Price:​ $439.00
3 Things to Think About When Buying a Bike for a 6-Year-Old (Beyond Size)
Biking uphill can be tricky, especially for younger kids. So, choosing a bike made of lightweight materials can make biking a little easier for your child. Plus, you want a durable metal that can withstand all your kid's playdates.
Look for bike frames made with carbon steel, aluminum or titanium. These are all lightweight and durable, Seacat says.
Different bikes have different braking systems and it's good to know which your kid is most comfortable using.
Children's bikes can have handle brakes (where you squeeze a lever to brake), pedal brakes (where you pedal in reverse to brake) or one of each (aka a dual-braking system).
Spending a few hundred dollars on a kids' bike may seem like a lot, but it's definitely worth the investment, Seacat says. Spending a little more money for a good brand (like the ones above) means quality materials and increased durability. Plus, these bikes are professionally assembled and typically come with a warranty.
And as your kid gets too big for their bicycle, you can expect to re-sell a name-brand bike for way more than just any bicycle, he says.