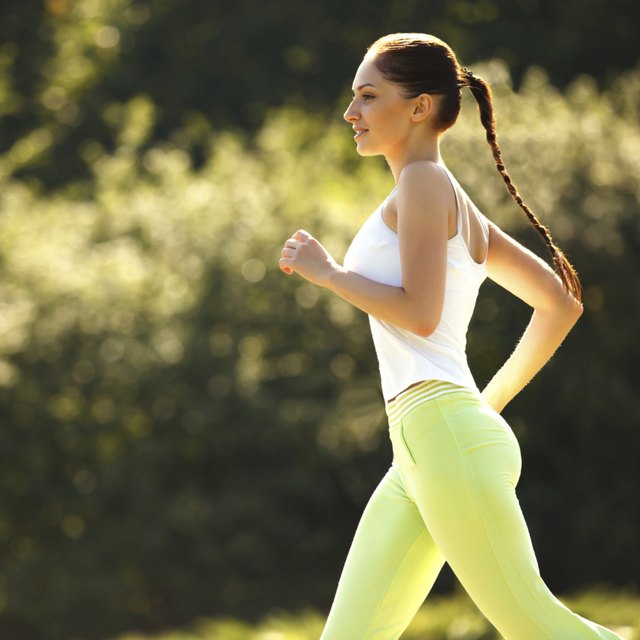 To burn fat and tone any part of your body, you need to get regular cardio exercise, build muscle and burn more calories than you consume. Jogging or running is an effective all-over body workout that will help you shed fat all over, including from your stomach. Jogging also engages your core muscles, so doing it on a regular basis will help tighten your abdominals. Remember though, you can't just spot reduce your abs, diet, consistent cardio and strengthening workouts are needed for a tight tummy.
Burn Fat While Jogging
For a nice flat tummy, you need to burn fat all over your body. To do so you need to get your heart rate up to 50 to 80 percent of its maximum heart rate, or MHR, also known as your target zone, per the American Heart Association. One way to estimate your maximum hear rate is to subtract your age from 220. That means if you're 35, your MHR is 185, so work at 50 to 80 percent of your MHR you need to be between 93 and 148 beats per minute. There is research that supports interval training -- meaning alternating between the lower end of your MHR and the highest end -- when running to burn more fat. A study out of the College of New Jersey led by Jie Kang looked at workout efficiency and found that men who ran harder and faster at the beginning of their runs burned about five to 10 percent more fat overall.
Eat Your Way to a Flat Stomach
There's no magic way to avoid the diet factor when it comes to a flat stomach. To get a lean body, including tight abs, you need to take in fewer calories than you consume. A good formula to remember is that 1 pound of fat equals 3,500 calories, according to American Council on Exercise. Certain foods reduce bloating and flatten your tummy such as high-fiber and low-sodium foods. Add options like beans, berries and nuts, especially almonds, to your diet to aid digestion and keep you feeling fuller longer, according to "Shape" magazine. You should also aim to drink eight 8-ounce glasses of water daily to flush out sodium and keep bloat at bay.
Calories Burned While Jogging
According to Healthstatus.com, a 150-pound person will burn 477 calories in one hour of jogging. If you want to kick it up a few notches and burn more calories, try running at a 5-mph pace to burn 576 calories per hour, or at 6 mph to burn 684 calories. The more calories you burn in a day, the faster you will lose weight and see those six-pack abs start to peek out.
Add Ab Work to Your Routine
While you can't spot reduce your abdominals, as part of your weekly workout schedule you should add some ab-specific strengthening exercises, such as crunches and situps. Also consider adding a yoga or Pilates class to your routine; both are effective ways to stretch and strengthen those abs. Muscle tissue burns more calories than fat, and building muscle uses a lot of calories, so by adding more muscle you are not only toning your midsection, you are revving up your daily calorie burn.