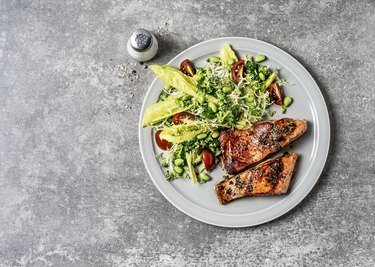 It's possible to create your own Medifast diet. Cooking at home is less expensive, and it allows you to choose the most nutritious ingredients. This option also avoids the dangers that come with following a very low-calorie diet because you can eat enough to meet your nutritional and energy needs.
What Is the Medifast Diet?
Beth Israel Lahey Health describes the Medifast diet as a prepackaged meal-replacement plan that involves eating six times a day. According to the company, people lose 2 to 5 pounds per week on the plan. Medifast also purports that eating low-fat, low-calorie and low-glycemic foods results in the use of fat storage for energy.
Medifast's main program is the "5 & 1 Plan." This is composed of six meal replacements per day: Five of them include shakes, bars and soups; and one is a "lean and green meal." The meal involves 5 to 7 ounces of fish, poultry or lean meat and 1 or 2 cups of nonstarchy vegetables, reports BILH.
After achieving the desired weight loss, Medifast diet followers begin the transition phase, where they can add starches, fruit and dairy products and reduce their dependence upon the packaged meals. The final maintenance phase consists of eating balanced meals with some added Medifast food.
A few studies indicate the Medifast diet can result in weight loss. A December 2013 clinical trial published in the ​International Journal of Obesity​ compared the effects of the Medifast 5 & 1 Plan with those of a self-directed low-calorie diet. After one year, data showed participants with obesity attained greater reductions in weight, fat and waist circumference than the control group.
What Is the Optavia Diet?
Optavia is a subsidiary of Medifast. Like Medifast, it offers a 5 & 1 Plan, which consists of five "fuelings" per day, in addition to cooking one lean and green meal at home. It also has the 4, 2 & 2 Plan, which involves four fuelings and one snack from the company, as well as two meals cooked at home.
Optavia offers a third program — the 3 & 3 Plan — which includes three fuelings from the company plus three meals per day cooked at home. An evaluation of Optavia vs. Medifast shows that the main difference between the two programs is that the former provides access to a coach.
One of Optavia's fueling choices is snack bars. Some of the ingredients are unhealthy, such as palm oil, added sugars and hydrogenated oil. Most bars on the market made by other companies, like other processed foods, would likely also contain unwholesome ingredients. Anyone looking for bars comparable to Optavia's may want to consider healthier snack options.
Problems With the Medifast Diet
Although people have lost weight on very low-calorie diets, such as Medifast, they also have reported a high rate of constipation and an increased risk of gallbladder disease, says Harvard Health Publishing. Aside from constipation, Medifast cautions that the eating plan may cause lightheadedness, tiredness, dry skin and feeling cold.
The National Academies of Sciences, Engineering and Medicine warns that, due to the very low-calorie content of Medifast, it's not recommended for certain people. These include individuals whose weight isn't at least 30 percent above normal, along with teens and children who haven't reached full physical maturation. The diet also isn't advised for pregnant women and people with eating disorders, cancer, diabetes, heart disease, liver disorders and kidney conditions.
Companies that offer packaged prepared meals frequently attain their low-calorie count by substantially limiting fat. To compensate, they contain added sugar to improve taste, making them higher in refined carbohydrates, which doesn't foster optimal health. In addition to additives and preservatives, they also contain added vitamins, which you wouldn't need if you were eating a well-balanced diet of nutrition-dense foods.
Commercial weight-loss programs can be expensive, but insurance may cover some of them. However, your best bet for weight loss is to consult your doctor, who can recommend a nutritionist. Many insurers will pay for a limited amount of nutritional counseling.
Medifast foods supply 800 to 1,000 calories per day, which falls below the minimal recommended daily caloric intake. The diet also results in faster weight loss than medical authorities recommend. In light of the adverse health consequences and potential dangers associated with a very low-calorie diet, you shouldn't go on this program without a doctor's supervision.
The National Heart, Lung and Blood Institute advocates losing weight safely, which can be accomplished on 1,200 to 1,500 calories per day for women and 1,500 to 1,800 calories per day for men. Anyone wanting to lose pounds without medical supervision should aim for a healthy weight loss of 1 to 1 1/2 pounds per week.
While buying prepackaged meals is convenient, creating your own meals at home is much healthier because you can avoid unwholesome ingredients and chemical additives. Making your own food is also more economical. Just be sure to eat enough, so you won't lose weight too quickly.
The American Heart Association provides suggestions for healthy snacks. Instead of Medifast shakes and bars, choose fruits like pears or apples, as well as vegetable finger-food such as carrot sticks, broccoli florets and cucumber slices. Other nutritious snack ideas include nuts, seeds, roasted chickpeas and popcorn, which is a whole grain.
Medifast's lean-and-green meals would be easy to duplicate at home. For example, one of the most nutritious protein foods is salmon, a fish variety rich in omega-3 fatty acids. You can season a piece of salmon and bake it in the oven while preparing your side vegetable dish. Avoid starchy vegetables like potatoes, corn, peas and yams. Most other vegetables, such as broccoli, Brussels sprouts, green beans and salad greens, are the nonstarchy variety, notes the American Diabetes Association.
One reason constipation has been reported with the Medifast diet is that the food products lack sufficient fiber from whole grains. When you cook at home, you can add whole grains to your diet. Try adding cooked brown rice as a side dish or include a slice of 100 percent whole-grain bread with your meal.