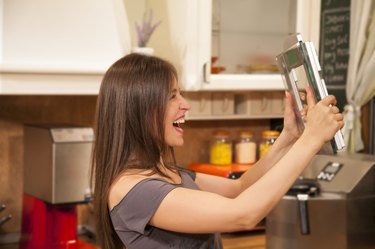 Any diet plan promising fast and easy results is nearly impossible to resist, and the Medifast plan is no different. By featuring ready-made meals and snacks, delivered direct to your home, the plan promises to make weight-loss effortless and delicious. As with most plans making such promises, however, the reality may be different. As for serious side effects, if followed with a doctor's supervision, Medifast appears to be fairly safe while potentially effective.
Basics
Medifast is a meal-replacement food program that provides pre-made snacks and meals -- such as oatmeal, chilli and soup -- and meal replacement shakes at a set caloric level. Three versions of the plan include a plan for women, a plan for men and a plan for people with diabetes. The Medifast "5 and 1" plan features five meals, shakes or snack replacers a day and one "real" meal. Exercise guidelines are also provided, although there is no specific exercise plan with the program.
Nutrition
The Medifast plan provides 800 to 1,000 calories a day, which makes it a "very low calorie" diet, which should only be undertaken with a physician's supervision. Accordingly, Medifast recommends that dieters on the plan do so under the physician's care, reports EveryDiet.com, although this is not required to participate in the plan. Very low calorie diets can lack important nutrients, so Medifast provides a wide variety in its foods.
Results
Provided dieters can stick to the plan, afford the foods and eat everything that is provided, they should be able to lose weight. Medifast seeks to balance its foods nutritionally, with protein, carbs and other nutrients, to ensure that adequate nutrition is received, and warns that not eating all of the foods can actually stall weight-loss, as the body begins to seek certain nutrients and hangs on to excess weight.
Side Effects
As with any very low calorie diet, returning to "normal" eating after following the Medifast plan can be problematic. To help with this possible side effect, Medifast provides a maintenance phase food plan and guidance. In addition, because only Medifast meals can be eaten, variety can suffer, which can prove challenging for some dieters, and the lack of roughage in the diet might cause digestive upset for some individuals. Another common complaint is the cost, which runs about $275 a month.