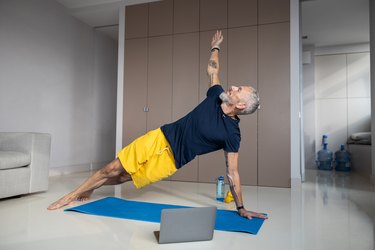 Not all ab exercises are created equal. Three, called the McGill Big 3, set the foundation for not only a toned midsection but also a strong core that protects and prevents your back from injury. Spoiler alert: No traditional crunches in this program!
Why is a strong core important? "Your core is the glue that holds you together," says certified personal trainer and nutrition coach Jonathan Jordan, CPT. "It's designed to help the body move as one integrated unit along with the pelvis, hips, back and limbs to make us efficient, controlled, balanced and coordinated."
In addition to the rectus abdominis (aka six-pack muscles) which helps us flex, bend and rotate, Jordan says that the deep core muscles, such as the transverse abdominis, are essential to your workouts as well as everyday tasks.
"They help you brace, create tension and resist movement to the spine, which reduces impact to your vertebra and mitigates against injuries like herniated discs, spasms and tears."
But sit-ups and side bends won't get you there. "By failing to incorporate core stability exercises, like the ones we show below, we are failing to strengthen the deeper core muscles that help us resist poor, improper movement and protect us from injury," he says.
What Is the McGill Big 3?
Stuart McGill, PhD, has extensively studied spinal biomechanics and performed clinical studies to narrow down the best three exercises for a stable core to prevent back injuries and to improve function in your everyday activities. His method develops core stability and, most importantly, muscle endurance.
Three specific exercises called the McGill Big 3 — the modified curl-up, side bridge and bird-dog — help develop a "stiffness" as he calls it, that provides stability to your spine to protect it from instability, overuse or other injuries.
An April 2018 study in the ​Journal of Physical Therapy Science​ compared the effect of the McGill Big 3 with conventional physical physiotherapy exercises as it relates to pain, movement and function for those with chronic, non-specific lower back pain. They found that those who did the McGill Big 3 had reduced pain and improved function compared to the other group.
Try the McGill Big 3 Exercises
1. Modified Curl-Up
Lie on your back with one leg straight and one knee bent. This puts your pelvis in a neutral position to best strengthen your core without straining your back.
Place your hands under the arch of your back and brace your core.
Lift your shoulder blades off the ground about one to two inches. Focus on moving your head and chest together as a unit. Don't let your head fall back.
Hold for 10 seconds.
Tip
These exercises are about building both stability and endurance. To work on endurance, you'll do 3 sets of each exercise. The first set, do 8 reps. The second set, do 6 reps. The third set, do 4 reps. As your endurance improves, increase the number for each set.
2. Side Bridge
Lie on your side, resting on your forearm with knees bent.
Straighten your legs and brace your core.
Lift your hips off the floor, keeping your body in a straight line. You can place your hand on your opposite shoulder as needed to help stabilize you.
Hold for 10 seconds.
Lower down to the starting position.
Repeat 8 times.
Turn over on the other side and repeat 8 times, then 6 times, then 4.
Tip
If you're having difficult maintaining good form with your legs straight, perform this move with your knees bent. As your strength and endurance improves, progress to straight legs.
3. Bird Dog
Start on all fours with your arms under your shoulders and knees under your hips.
Brace your core and squeeze your glutes as you lift your left arm, while also lifting your right leg straight back.
Raise your arm until it's level with your shoulder and raise your leg until it's level with your hips.
Hold for 10 seconds.
Repeat on the other side for 8 reps, then 6 reps, then 4.
Tip
While doing these exercises, as well as activities like weight-lifting, it's important you brace your core. To do this, place your fingers 2 to 3 inches on either side of your bellybutton and push in — then stiffen your abs until your fingers push out.
Jordan says another cue that helps him get a proper brace is to think about gently coughing. "Like the kind of gentle cough you'd do in a crowded elevator."
Will These Exercises Give You Six-Pack Abs?
The McGill Big 3 help keep your back healthy, but will they also help give you the six-pack abs? Yes, they're certainly part of the equation — but not the only part.
"Yes, they can help tone the most superficial core muscles, giving you the coveted ab ripples," Jordan says. "But the issue usually comes down to body fat. If you have 'too much' body fat, they aren't visible. So all the crunches, planks and bird dogs in the world won't make them visible.
"If your goal is to get a visible six pack, you should continue a balanced strength-training program with an emphasis on core stability. But you should also work on a nutrition program to help you safely lower your body fat so those ab muscles become visible."
Bottom line: "Getting a six pack (for most of us) requires a sensible diet, plenty of restorative rest and a balance of core training," Jordan says. "Strengthening your core, eating healthfully and getting great sleep are all wonderful goals for any human and come with a bevy of benefits. Six packs are overrated and are simply a measure of how lean you are."