Kyphosis refers to a spinal deformity that typically occurs in the thoracic region of the spine, but can also manifest in the cervical spine. Kyphotic patients develop a marked rounding of the spine, which results in a hunchback posture. Kyphosis has many causes, including poor posture, arthritis, neuromuscular problems and osteoporosis. Postural kyphosis typically responds well to corrective exercises, while more severe forms of kyphosis require bracing and in some cases surgery.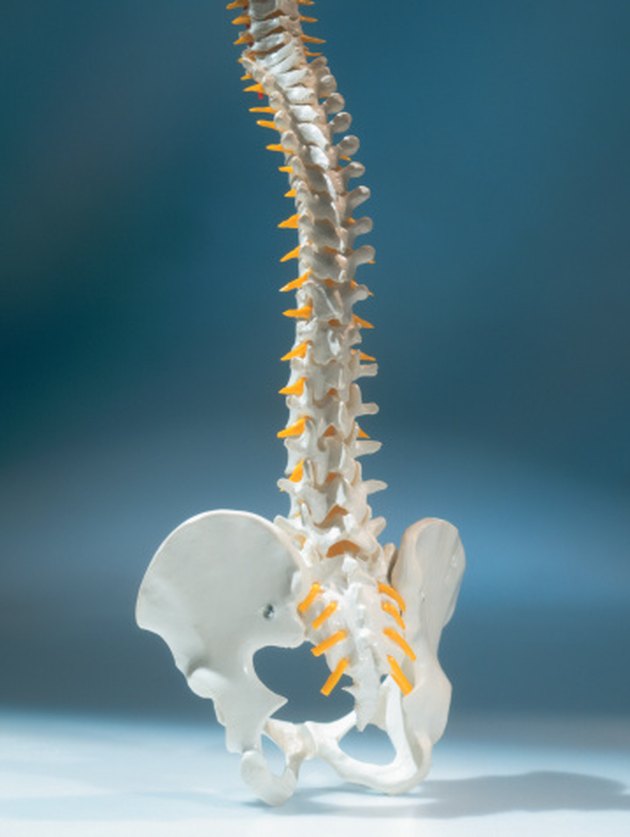 Postural Kyphosis
Postural kyphosis often develops in children and adolescents as a result of excessively rounded shoulders and a head position that hangs forward. This form of kyphosis corrects itself when the patient lies down on a flat surface. Corrective exercises that include resistance training routines to strengthen the postural muscles – the rhomboids, the posterior deltoids and the latissimus dorsi – such as rows and lat pulldowns, typically help to reverse postural kyphosis.
Osteoporosis
The main cause of kyphosis in the adult population is osteoporosis. Patients with osteoporosis lose significant amounts of bone mass over time, and this contributes to the weakening of the spinal column and vertebrae. Kyphosis as a result of osteoporosis typically manifests more frequently in women. Corrective exercises for kyphosis that results from osteoporosis include weight-bearing exercises such as squats, lunges and presses. Patients also benefit from vitamin D supplementation and hormone replacement therapy.
Degenerative Kyphosis
Sometimes kyphosis occurs as part of the aging process. Normal wear and tear on the spine causes weakness in the connective tissue of the spine, as well as disk degeneration. Corrective exercises for degenerative kyphosis involve a combination of strengthening exercises for the postural muscles, such as rows and reverse flies. Yoga stretches such as the cow pose and child's pose might also help keep the muscles and connective tissues of the spine limber.
Scheuermann's Kyphosis
Scheuermann's kyphosis is characterized by extreme kyphosis and involves a structural alteration of the spine and vertebrae. Typically in patients who have this condition, exercises are not enough to halt the progression of the curvature. If the kyphotic curvature remains less than 50 degrees, treatment usually involves bracing. However, if the curvature exceeds 70 degrees, surgery will be recommended.