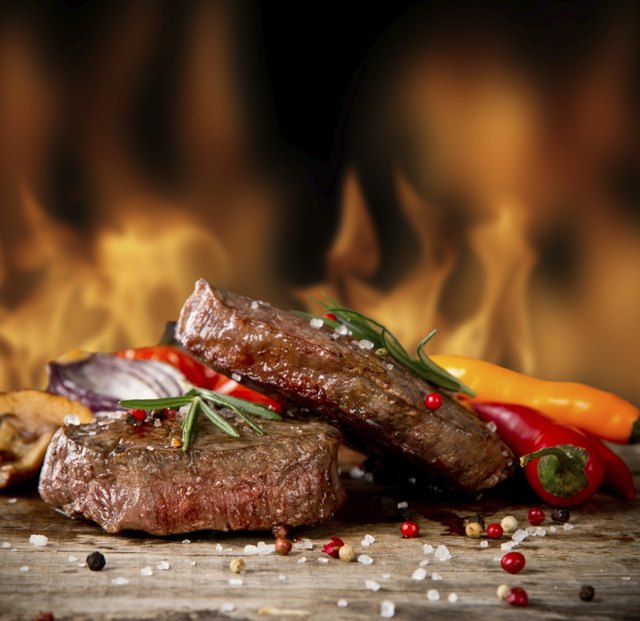 Low-carb diets offer a number of benefits, from weight loss to improvement in heart health. But that doesn't mean they're free of side effects. Complaints include fatigue, depression, lack of motivation, irritability and restlessness, which are also symptoms associated with anxiety. If you're following a low-carb diet and have these symptoms, consult your doctor to determine if it's one of the temporary side effects from your diet or something more serious.
Low-Carb Diet and Your Body
Carbs serve as your body's preferred source of energy, and the dietary reference intake suggests you get at least 130 grams of carbs a day for good health. Your brain alone consumes about 120 grams a day, according to the textbook Biochemistry. While there are no set guidelines for how to do a low-carb diet, many popular commercial plans start you on a very low-carb intake, restricting you to 20 to 50 grams of carbs a day. Without enough carbs, your body is forced to burn fat for energy. Your brain can't use fatty acids for fuel, so your liver converts the fat into ketones, pushing your body into ketosis, which is the goal of your severe carb restriction.
Low-Carb Diet and Anxiety
During the first three days of a low-carb diet, you may feel tired and faint or experience heart palpitations, headaches or cold sweats, according to a case report published by UCLA. Although anxiety isn't a common complaint for those following a low-carb diet, the case report noted a woman with a several-year history of well-controlled anxiety who experienced panic attacks while following this type of diet. Once she reintroduced carbs, the anxiety and panic attacks were resolved. The authors of the report note that the anxiety may have been brought on by a decrease in serotonin levels in the brain caused by the ketosis.
While this is an isolated incident, it's important to note that a number of other symptoms related to a low-carb diet can be connected to anxiety. For example, induction flu involves feelings of fatigue, irritability and a decrease in mental clarity -- all symptoms sometimes described by people suffering anxiety.
Tips to Improve Symptoms
Adding back carbs may be one way to cure your anxiety-like symptoms. While you may not tolerate less than 50 grams of carbs a day, adding enough so you're still on a low-carb diet -- eating 130 grams or less -- may help you feel better and move you toward your weight goals. Talk to your doctor or a dietitian about finding the right carb balance.
Carbs may not, however, be the only reason you're feeling anxious. In addition to being low in carbs, these diets are also low in sodium, which has been known to cause flu-like symptoms. Adding a little salt to your food may be all you need to feel a bit more like yourself. Low-carb diets also cause dehydration, so make sure you get enough water. Adults need 8 to 12 cups a day.
What to Avoid to Reduce Anxiety
While there does seem to be an association between diet and behavioral health issues such as anxiety, scientists are still unsure of the connection and have not determined the best diet to follow to manage symptoms. However, if you're prone to anxiety, you may want to avoid foods and beverages high in caffeine, which includes coffee, regular tea, cola and chocolate. This nervous-system stimulant may trigger anxiety, according to MedlinePlus. Many commercial low-carb diet plans suggest you limit your intake of caffeine.