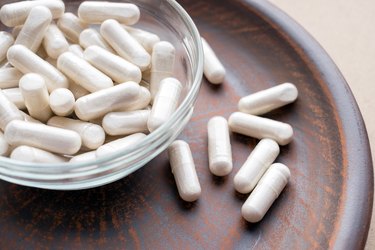 CoQ10 supplements have started taking over the shelves of the health sections of grocery stores. They can be found in supplements for energy, to stop aging and all on their own — that's because they work.
Of course, like all supplements, they only work for those who need them, but several different populations can benefit from supplementation. Some such communities include those who are aging, people with mitochondrial diseases and those who have CoQ10 deficiencies. The best course of action is scheduling an appointment with your physician to decide if coenzyme Q10 can benefit you.
Tip
Taking CoQ10 with other supplements or vitamins is neither helpful nor harmful. The supplement mixes safely with most vitamins but isn't enhanced by them either. There are, however, some contraindications for taking CoQ10 with certain medications. An example of such a medicine is anticoagulants; the pair can increase your chances for blood clots.
What's Coenzyme Q10?
Coenzyme Q10, or CoQ10, is one of the antioxidants that your body naturally creates. It can be found in every cell and is essential to several of your body's functions. Healthy people will produce enough of the antioxidant on their own, according to Oregon State University. Similar to taking vitamin B, it only improves energy if your body needs you to take it.
CoQ10 has an excellent safety profile, making it a supplement worth looking into according to a July 2018 review from Indian Heart Journal. Coenzyme Q10 deficiencies aren't common, but they do occur on their own or with other illnesses and medications. It's often linked with mitochondrial diseases, but is related to other disorders such as cardiofaciocutaneous syndrome, a rare genetic disorder.
Your energy comes from the food you eat, but the energy that your body uses is adenosine triphosphate, or ATP. The process of converting carbs and fats into ATP happens in the mitochondria and requires the presence of CoQ10. In this way, coenzyme Q10 is essential for energy production, making CoQ10 supplements a reasonable consideration for energy improvement.
Conditions CoQ10 Supplements May Improve
While the FDA hasn't officially approved CoQ10 for the treatment of any diseases, it's recommended by doctors for treatment of several ailments, according to a January 2018 review from StatPearls.
Conditions that are associated with decreased levels of CoQ10, such as fibromyalgia, diabetes and mitochondrial diseases, are often thought to be improved through this supplement. There are processes related to these ailments that require the antioxidant, and you can enhance their functions by supplementing it.
A review form the July 2018 issue of Indian Heart Journal found CoQ10 can be useful for patients with heart failure, particularly those who can't utilize mainstream treatments. Though you should note it's a complementary tool, not a treatment. The review does call for further research into the subject, noting the limitations of the studies included in the analysis.
Elderly patients and those with diabetes, hypertension, ischemic heart disease or other types of functional failures can benefit from CoQ10 according to a study from the April 2018 issue of PLOS One. The study looked at patients taking CoQ10 along with selenium and found a significantly reduced risk for cardiovascular mortality.
Coenzyme Q10 Side Effects
As with anything you ingest, your body will experience different reactions. The great news is that CoQ10 is an extremely safe supplement and most of the interactions are safe. But there are some adverse coenzyme q10 side effects you should be aware of as well. Some common negative side effects include — stomach ache, nausea, vomiting and diarrhea. In less common cases, dizziness, photophobia, irritability, headache, heartburn and fatigue may occur.
The study showed a significant decrease in life interfering pain in the participants. Everyone in the study had a form of muscle pain, often paired with muscle fatigue, weakness or both. What makes this study stronger than other studies on the subject was the use of the Brief Pain Inventory, a complex questionnaire that better assesses the pain of participants.
Skin treatment of CoQ10 has been found to decrease mitochondrial dysfunction while increasing ATP production, according to a study from the March 2016 issue of Photochemistry and Photobiology. The antioxidative function of CoQ10 provides an extra layer of protection to the mitochondria and can stimulate DNA repair.
There is also evidence that supplementation can improve the signs of aging, according to a review from the February 2018 issue of Frontiers in Physiology. As you age, the concentration of CoQ10 in your tissues reduces, which is what makes taking the antioxidant so beneficial.
CoQ10 Supplement Interactions
As with all supplements or medications, your doctor is the best person to talk to about the interactions between CoQ10 supplements and other substances. While it's safe to take in most circumstances, there are times when it can be harmful. In addition, there are also times when CoQ10 supplements can improve the impact of a medication on your health.
There are medications that lower the levels of coenzyme Q10, such as the beta-blockers used for glaucoma, according to an article from PennState Hershey. These medications can cause heart-related side effects that fortifying your CoQ10 levels can reduce. Along with the mitigations of symptoms from other drugs, such as tricyclic antidepressants and cholesterol medications.
CoQ10 may help blood pressure medication as well, in some cases allowing for the reduction of blood pressure dosages. At the very least it isn't contraindicated, but that doesn't mean you should start taking it or stop taking your medications without talking to your doctor first.
Getting Enough CoQ10
PennState Hershey warns that children should not take CoQ10 without medical supervision. They say the safe range for adults is 30 milligrams to 200 milligrams. However, that's a rather broad range, so you're better off talking with a physician than picking your own dosage.
It's fat-soluble, so the best time to take CoQ10 is with food. While coenzyme Q10 is integral to energy production, there isn't a set CoQ10 dose for energy levels, according to the Oregon State University article. And unless you have a specific need for taking the antioxidant, it won't improve your energy. While it's essential to the production of ATP, you should be naturally creating enough to produce all of the energy your body needs.
But if you still want to increase the amount of coenzyme Q10 in your diet, there are other ways besides supplementation. Instead, try loading your meals with CoQ10-rich foods, including beef, chicken, eggs, soybean and canola oils, rainbow trout, broccoli, cauliflower and strawberries.