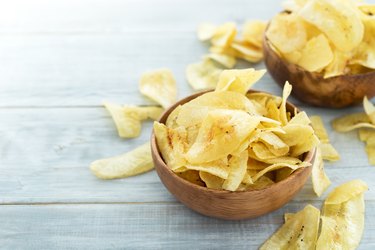 Plantain chips are a lot like potato chips or sweet potato chips. Most plantain chips are fried, rather than baked, which means that they're rich in fat as well as carbohydrates. While plantain chips are a source of some vitamins and minerals, like potato chips, they should be consumed in moderation.
Tip
Plantain chips are a fried, processed food, and you should consume them in moderation.
Different Ways of Consuming Plantain
Plantain is a starchy fruit that looks a lot like a banana. Unripe, plantains are firm and green. As they ripen, they turn yellow and begin to look much more like bananas.
Although the sweetness of plantains increases as they change from green to yellow and eventually black, they never become as sweet as bananas. Even at their ripest, they're still starchy and need to be cooked.
Fortunately, there a wide variety of ways you can cook plantains. They can be fried, baked, boiled and eaten mashed, just like potatoes. Plantains can also be easily turned into chips that are sometimes referred to as banana chips.
But homemade or restaurant-made plantain chips can vary a fair amount. They might be like potato chips but even thicker, like potato wedges or homestyle fried potatoes.
These thicker types of plantain chips are commonly consumed in Central and South American countries. They're referred to as ‌tostones‌, ‌patacones‌ or simply fried plantain.
Banana Chips Calories and Macronutrients
According to the USDA, plantain chips are rich in calories, fat and carbohydrates. They're primarily carbohydrates; every 100 gram serving has 63.8 grams of carbs. Just 3.5 grams come from dietary fiber, which means that there are 60.3 net carbs in every serving.
Every 100 grams of plantain chips has 26.9 grams of fat, 8.3 grams of which come from saturated fat. Plantain chips have small amounts of omega-3 fatty acids (7 percent of the recommended intake) and large amounts of omega-6 fatty acids (69 percent of the recommended intake). The American Heart Association recommends consuming healthy monounsaturated and polyunsaturated fats like these instead of saturated and trans fats whenever possible.
The calories in plantain chips for this serving size are also substantial, with a total of 531 calories. There are also 2.3 grams of protein in every 100 grams. Like potato chips, one serving of plantain chips is equal to about 28 grams or 1 ounce, which means one standard serving of plantain chips has about 150 calories.
Gram for gram, banana chips calories are slightly less than those of potato chips. There are an additional 4 grams of protein in potato chips as well as an extra 6 grams of fat. However, there are around 10 grams more carbohydrates in plantain chips.
Plantain Chips Vitamins and Minerals
5 percent of the daily value (DV) for iron
17 percent of the DV for potassium
17 percent of the DV for magnesium
6 percent of the DV for phosphorus
22 percent of the DV for copper
12 percent of the DV for manganese
Plantain chips also contain vitamins like:
8 percent of the DV for vitamin A
5 percent of the DV for vitamin B1 (thiamin)
5 percent of the DV for vitamin B3 (niacin)
22 percent of the DV for vitamin B5
27 percent of the DV for vitamin B6
9 percent of the DV for vitamin B9 (folate)
36 percent of the DV for vitamin C
34 percent of the DV for vitamin E
24 percent of the DV for vitamin K
Although this may sound like a substantial amount of nutrients, the nutrition in a 100-gram serving of potato chips is fairly equivalent. If you're comparing plantain versus potato chips, you'll find equivalent amounts of most of the same vitamins and minerals. In some cases, there are even more of certain vitamins and minerals in potato chips, like vitamin E, most B-complex vitamins, selenium, copper, potassium and manganese.
However, despite being a significant source of many essential nutrients, plantain chips come with a lot of fat and calories and should be consumed in moderation.