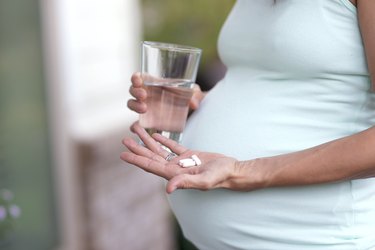 Vitamin E is a type of antioxidant found naturally in certain nuts, seeds, oils and vegetables. Vitamin E oil is available as a topical treatment, oral capsule or softgel. During pregnancy, women need 15 mg vitamin E daily to keep their bodies healthy. Expectant mothers may also apply vitamin E oil directly to their skin to help prevent pregnancy-related stretch marks. Discuss the safety of vitamin E oil in pregnancy with your medical provider before using topical or oral preparations of vitamin E oil.
High Doses and Toxicity
In a February 2009 study published in BJOG: An International Journal of Obstetrics and Gynaecology, Dr. Steegers-Theunissen and colleagues reported that women who consumed high doses of vitamin E during early pregnancy were at an increased risk of giving birth to infants with congenital heart defects. This risk was greatest amongst pregnant women who both used vitamin E supplements and consumed more than 14.9 mg vitamin E daily as part of their diet.
Though congenital heart defects are common — affecting nearly eight in every 1,000 newborn infants — heart structure abnormalities may cause breathing rate changes, blue skin discoloration or a failure to thrive in affected infants. Pregnant women can limit their risk of experiencing this complication by talking with a doctor before taking vitamin E oil supplements to ensure they take the correct dosage.
Oral Vitamin E Oil Safety
Orally administered vitamin E oil may cause mild side effects during pregnancy. Such side effects are typically associated with high doses of vitamin E and may include fatigue, headache, weakness, rash, blurred vision, nausea or diarrhea.
Taking too much vitamin E may also increase your risk of experiencing bleeding or bruising complications. Seek care from your doctor if any of these side effects persist or become severe.
Topical Vitamin E Oil Safety
Applying vitamin E oil to the skin is often used as a treatment for the prevention of stretch marks during pregnancy. However, according to a study published in the British Journal of General Practice in 2013, there is no confirmed evidence that topical oils prevent stretch marks. In addition, vitamin E oil may cause a mild to moderate allergic skin reaction called contact dermatitis. The treated skin region may appear inflamed, dry or flaky and may be intensely itchy. Consult your doctor if you have concerns about the safety of applying vitamin E during your pregnancy.
Interactions With Medications
Pregnant women who need to take certain medications may not be able to use orally administered vitamin E oil. Avoid taking niacin or cholesterol-lowering drugs in conjunction with vitamin E oil supplements because vitamin E may reduce the effectiveness of these medications. In addition, oral vitamin E oil may increase the absorption or effectiveness of cyclosporine or blood thinners.