Cholesterol blood tests are used to determine an individual's risk of developing heart disease. Such tests typically look for the total quantity of cholesterol in your blood as well as your levels of good HDL cholesterol and bad LDL cholesterol. If your cholesterol numbers are unusually high or unusually low, your doctor may recommend that you make lifestyle changes and repeat the test. In addition to diet, alcohol use and your general health can have important effects on your cholesterol levels.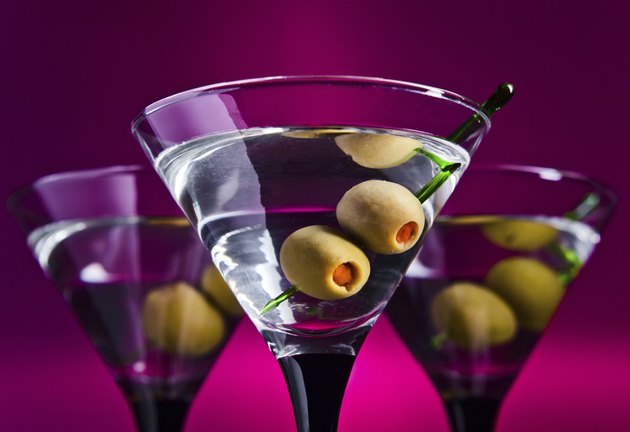 Cholesterol
Cholesterol is a soft, wax-like substance made by your liver that helps your body to process fat. Cholesterol is also an important building block of many hormones. Over time, cholesterol can build up in your arteries and increase your chances of developing coronary heart disease. Low-density LDL cholesterol contributes to plaque buildup, whereas good HDL cholesterol typically helps to remove cholesterol from your body. By getting a cholesterol test, you can determine how much total, bad LDL and good HDL cholesterol is in your blood and your relative risk of developing heart disease.
Diet
Your diet is typically the most important factor impacting your cholesterol test. Diets high in fat, particularly saturated fat, are the primary culprits in raising total and LDL cholesterol levels, according to the UC Berkeley Wellness Letter. Eating foods with high cholesterol content such as eggs and red meat can also impact cholesterol tests. It can also be important to avoid any food at all 12 hours before a cholesterol test. While eating a few hours before your cholesterol test is not likely to impact your HDL levels, your total cholesterol, LDL cholesterol and lipid levels may surge, explains the Harvard Family Health Guide.
Alcohol
Drinking alcohol can impact your cholesterol test. According to the Harvard Family Health Guide, you should avoid alcohol for at least 24 hours before your cholesterol test. Long-term alcohol use can also have effects on your HDL cholesterol levels, according to Cigna Healthcare. If you are at risk for heart disease or have low HDL cholesterol, talk to your doctor to learn how moderate alcohol drinking can benefit your cardiovascular health.
Health and Injury
General health and injury can have profound effects on your cholesterol levels. The Harvard Family Health Guide explains that acute injuries, including a recent heart attack or stroke, can lower your cholesterol test readings. Recent surgeries can also affect your cholesterol levels. The onset of chronic disease such as cancer can also lower your cholesterol levels. Interestingly, unusually low cholesterol levels are sometimes the first sign of cancer. Increased psychological or physical stress can also impact your cholesterol readings. For this reason, it is important to avoid unusual vigorous exercise before your cholesterol test.