Epididymitis is swelling that occurs in the back of the testicle in the tube that carries sperm. Epididymitis most often causes pain, swelling and redness in one or both testicles. It is okay to exercise with epidymitis depending on what exercises you do. Certain strenuous exercises can aggravate the condition but there are other types of physical activity that might not cause discomfort.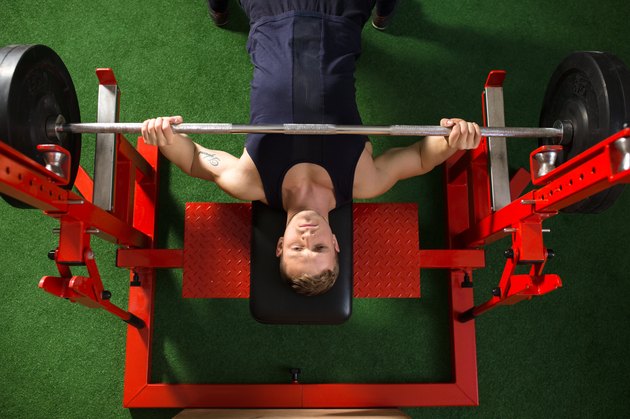 Causes
Men of any age can be effected by epididymitis, but the condition is most common in men between the ages of 20 and 39. Epididymitis is most often caused by a bacterial infection from the urinary tract or the prostate or from a sexually transmitted disease like gonorrhea or chlamydia. Other causes of the condition include certain medications and tuberculosis. Epididymitis may occasionally be caused during strenuous exercise and heavy lifting by urine that gets forced from the bladder to the epididymis, then causes a chemical irritation.
Treatment
Treatment for epididymitis depends on the cause. If your condition is caused by a sexually transmitted disease or other infection, you will be prescribed antibiotics by your doctor. To handle pain and discomfort you can rest, elevate your scrotum while lying down, wear an athletic supporter, apply cold backs to your scrotum and refrain from sex until your infection has cleared. To deal with pain and inflammation, you can take a non-steroidal anti-inflammatory drug like ibuprofen.
Exercise
Depending on the amount of pain you are in, certain types of exercise might cause pain. For example, bike riding might put too much pressure on your testicles and be too painful. A strenuous activity like weightlifting might cause urine to get caught in the epididymis and aggravate your condition by causing irritation. Activities like moderate walking and swimming don't cause the scrotum and testicles to move a lot, though the type of exercise you do depends on what your body can tolerate. If you are on an antibiotic, wait to exercise until the epididymitis is cleared, to avoid pain and further irritation.
Prevention
You can prevent epididymitis by practicing safe sex and getting regular medical examinations so infections can be treated. If you are planning to lift weights or do any other type of strenuous physical activity, it's a good idea to empty your bladder first so urine doesn't go from your bladder to your epididymis and potentially cause epididymitis. You can also help to prevent an infection from being in your system in the first place by drinking plenty of water.