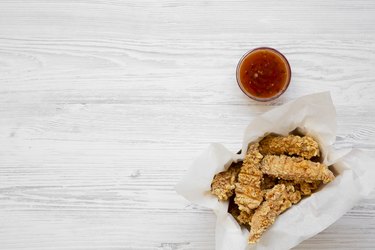 Chicken tenders — also known as chicken strips, chicken fingers or chicken goujons — are usually made using chicken breast. This cut of chicken is breaded, then baked or fried. Chicken tenders' nutrition is likely to be fattiest when deep-fried.
Chicken Fingers Calories and Macronutrients
Chicken tenders are primarily made of breast meat. However, given the additional ingredients, like breadcrumbs, that are also used to make them, chicken tenders end up with many more calories than plain chicken breast.
There can be anywhere from 271 to 302 calories in chicken tenders per 100 gram serving. The difference in your chicken fingers calories can be caused by the fat content of your chicken breast, the type of breadcrumbs used for the crust and the cooking method used.
Deep-fried chicken fingers are likely to have more fat compared to pan-fried versions. Similarly, baked chicken fingers' calories will be much lower than pan-fried and deep-fried chicken fingers. The Mayo Clinic recommends cooking methods like baking, grilling and roasting over methods like frying, because this minimizes the fat content of your food.
In general, the USDA states that chicken tenders nutrition features 18.1 to 19.2 grams of protein and 14 to 16.6 grams of fat. Out of this fat content, around 2.5 to 2.9 grams come from saturated fat. However, chicken tenders are fortunately rich in healthy unsaturated fats, like omega-3 and omega-6 fatty acids.
The American Heart Association recommends consuming unsaturated fats over saturated fats whenever possible. Excess saturated fat consumption can increase your cholesterol and triglyceride levels.
Every 100 grams of chicken tenders also has 17.3 to 20.3 grams of carbohydrates. Out of these carbohydrates, only 0.7 to 1.2 grams come from dietary fiber.
Chicken Tenders Nutrition Facts
7 to 8 percent of the daily value (DV) for potassium
7 percent of the DV for magnesium
21 to 24 percent of the DV for phosphorus
6 percent of the DV for zinc
7 to 8 percent of the DV for copper
10 to 11 percent of the DV for manganese
30 to 36 percent of the DV for selenium
8 to 9 percent of the DV for vitamin B1 (thiamin)
10 to 14 percent of the DV for vitamin B2 (riboflavin)
42 to 51 percent of the DV for vitamin B3 (niacin)
25 to 30 percent of the DV for vitamin B5
25 to 29 percent of the DV for vitamin B6
Up to 5 percent of the DV for vitamin B9 (folic acid)
5 to 7 percent of the DV for vitamin B12
8 to 21 percent of the DV for vitamin E
Up to 7 percent of the DV for vitamin K
Chicken tenders are also likely to have other important nutrients, like choline, lutein and zeaxanthin.
Your chicken tenders may also contain other nutrients if an alternative type of breading was used to make their crust. You can crust your chicken tenders with a mixture of whole-grain breadcrumbs and coconut flour, nuts, sesame seeds and other healthy ingredients to enhance their nutrition.
However, keep in mind that this change in ingredients will not only increase the amount of nutrients and fiber in your chicken tenders. Nuts and seed crusts are also likely to increase fat content, which means that your chicken fingers calories will increase too.