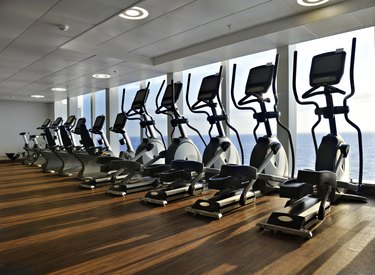 An elliptical machine offers one or two options for increasing the intensity of your workout: pedal resistance and incline ramp. Most elliptical machines offer varying levels of manually or digitally adjustable pedal resistance. If the pedal resistance on your elliptical machine stops working, try troubleshooting the problem before calling the manufacturer or a repair person.
Identification
Pedal resistance is the most common option on an elliptical trainer for making your workout more difficult. It works similar to the resistance on an exercise bike -- the higher you set the resistance the harder it is to move the pedals. An elliptical may have as few as four levels of resistance or as many as 30 levels. If the elliptical has digital resistance, you adjust it using the control buttons on the console. If it has manual resistance, you adjust it with a tension knob.
Causes
Several different factors can cause the resistance on your elliptical machine to stop working. If the power source is not at full capacity, the pedal resistance may not work. The wire between the resistance controls -- either the console or the tension knob -- and the motor can break. If the drive belt becomes loose, the resistance may slip or not work at all, even when you turn it on to the highest setting.
Troubleshooting
If the resistance stops working, first check the elliptical machine's power source. Some models use batteries, others plug-in with an AC adapter. Make sure the batteries are new and have full capacity. If the batteries are weak, the console may light up, but the resistance motor won't run. Check that the AC adapter is plugged-in properly and that it is the correct voltage for your machine. Consult your owner's manual for other troubleshooting tips. Icon Health and Fitness, which makes several elliptical brands including NordicTrack, ProForm and Weslo, provides instructions for tensioning the drive belt.
Contact Manufacturer
If you are unable to troubleshoot the problem yourself, you will need to contact the manufacturer. Have your paperwork and owner's manual handy. Check your warranty information. If your elliptical machine is still under warranty, the cost of the repair might be covered. Do not perform any service on your machine beyond the instructions provided in your owner's manual if the elliptical is still warranted. You may void the warranty.