Crystallized ginger is sometimes known as candied ginger or ginger chews. With its soft, toothsome texture and sweet, spicy taste, crystallized ginger can be added to cookies and cakes, as well as eaten on its own. You can buy crystallized ginger in some grocery stores, and health food stores and Asian grocers often carry it. Ginger chews are small and portable, making them good for trips, and as a way of getting some of the many nutritional benefits of ginger.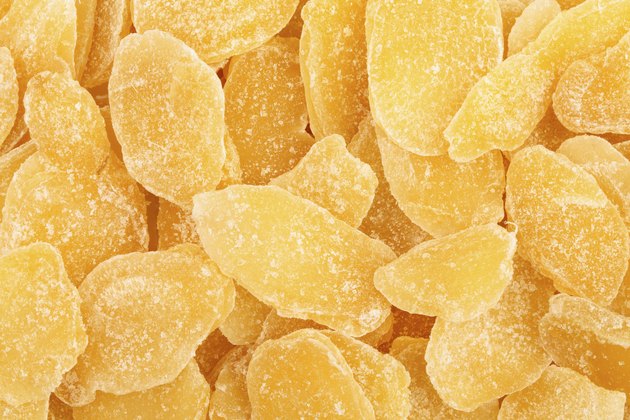 Sugar Content
While ginger has a number of health benefits that are also available in crystallized ginger, the sugar content of crystallized ginger is very high, ranging from 3 to 5 grams of sugar per 6-gram piece, so watch how much you eat. With one brand of commercially made candies, two ginger candies provide 40 calories. According to Harvard University, a diet high in added sugar can increase the risk of cavities and weight gain. A diet high in added sugar also increases your risk of cardiovascular disease, according to a 2014 issue of "JAMA Internal Medicine." The American Heart Association recommends that women get no more than 100 calories from sugar per day, while the maximum recommendation for men is 150 calories.
Helps Treat Nausea
Ginger is well known as an anti-nausea aid, helping to relieve nausea resulting from chemotherapy, motion sickness or pregnancy. It can also help relieve symptoms associated with nausea, including vomiting and cold sweats. Because even crystallized ginger can have a strong taste, try sucking on the ginger pieces rather than chewing and swallowing them. This can be especially helpful when you have an upset stomach. The "British Journal of Anaesthesia" published a survey study in 2000 of six peer-reviewed trials on ginger and nausea. Scientists found that ginger was an effective anti-nausea treatment for instances of motion sickness, seasickness and nausea from chemotherapy.
Reduces Stress
The spicy scent of ginger can act as a perk when you're feeling tired or low. Crystallized ginger possesses the sinus-clearing abilities of ginger, which can help you feel less lethargic and fatigued. It is considered a herbal remedy for symptoms of chronic fatigue syndrome, according to Erica Verrillo, author of "Chronic Fatigue Syndrome: A Treatment Guide." A 2008 issue of "Phytotherapy Research" included an animal study that found ginger an effective antioxidant that provided protection from oxidative stress.
Potential Complications
The University of Maryland Medical Center recommends limiting your consumption to 4 grams of ginger, in any form, per day. While side effects from eating ginger are rare, ginger is considered safe to eat regularly. Eating too much can irritate your stomach, however, as well as cause heartburn and irritation in your mouth and esophagus. It can also lead to diarrhea. If you have gallstones, diabetes or are about to go into surgery -- and are regularly consuming large quantities of ginger -- let your doctor know beforehand. Ginger can sometimes also affect diabetes and blood pressure medication, as well as blood-thinning medication, so let your health care provider know before you start eating crystallized ginger on a regular basis.